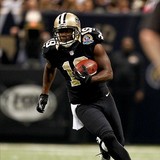 After a week in which the Redskins signed receivers Donte' Stallworth and Devery Henderson for base salaries of $840,000 each (The veteran minimum for players with 7-9 seasons in the league). The Redskins now have $1.4 million in salary cap space according to the Washington Times. The space is open mainly due to the veteranRead More...
Now that the season's over and we're in offseason mode, I'm giving you guys a look back at the things that made us happy in 2012 with the top 10 plays the Saints made. You'll remember this game as one of the worst of the season, but that didn't stop Devery Henderson from making this play below. You can view this play at the 1:21 mark (runs till the 1:26 mark):  
MORE STORIES >>
Redskins News

Delivered to your inbox

You'll also receive Yardbarker's daily Top 10, featuring the best sports stories from around the web. Customize your newsletter to get articles on your favorite sports and teams. And the best part? It's free!