We've updated our Privacy Policy.
By continuing to use this site, you are agreeing to the new Privacy Policy.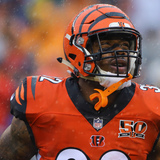 Running back Jeremy Hill's tenure with the Cincinnati Bengals has come to an end. As he prepares to hit free agency, Hill posted this farewell message to his Twitter account. Hill was selected by the Bengals in the second round of the 2014 draft. His first season was by far his most productive when Hill rushed for 1,124 yards and nine touchdowns at speedy pace of 5.1 yards per carry...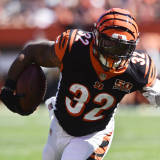 Bengals running back Jeremy Hill appears to believe he'll be hitting the free-agent market in the spring.Hill posted a tweet on Wednesday about how it's "on to the next chapter" for him, which included some highlights from his four-year tenure in Cincinnati. It's no surprise that the Bengals would be looking to move on from Hill, with the team using a second-round draft pick on Joe...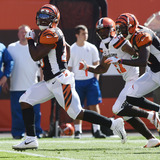 With a big lead, poor field position and time running out in the first half, it only seemed logical that the Cincinnati Bengals would run the clock against the Cleveland Browns. Giovani Bernard had other ideas.The running back took a screen pass from Andy Dalton and sprinted to the end zone untouched for a 61-yard touchdown. It's hard to believe that the Cleveland defense was so...
LIKE WHAT YOU SEE?
GET THE DAILY NEWSLETTER: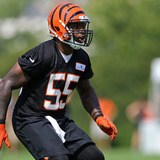 You'd think that Vontaze Burfict would be saving his cheap shots for the regular season, but that's not the case.The Bengals held a practice at training camp on Tuesday, and Burfict, for some reason, put a cheap shot on running back Giovani Bernard. Burfict dove right at Gio's legs, and that didn't go over well with his teammates.A brief skirmish erupted as a result. That tiger just...
Jeremy Hill is making it tough on other running backs to find a roster spot this season. When the Cincinnati Bengals set up shop for training camp across from Paul Brown Stadium on July 24th, there were lots of questions surrounding the offense. Would Andy Dalton's contract situation be resolved soon? Who will be the starting center? Is there room on the roster for BenJarvus Green...
On July 23, the Cincinnati Bengals will kick off training camp in Cincinnati, Ohio on their practice fields adjacent to Paul Brown Stadium in downtown Cincinnati. This is only the second year that the Bengals have held training camp close to home, where as in past years they have taken the show on the road down to Georgetown, Kentucky where they used Georgetown College's facilities...
Now that the Cincinnati Bengals have defeated their division rivals the Pittsburgh Steelers, the team can focus on what needs to be done in preparation for not only the Green Bay Packers, but the long run at the AFC North Championship (sorry Steelers fans, you can give up now.) Giovani Bernard played a huge role in Cincinnati's win over the Steelers. But first, there are a few keys...
Cincinnati Bengals rookie running back Giovani Bernard has quickly emerged as one of the most entertaining stories of HBO's "Hard Knocks" this year. Earlier this month, Bernard revealed that he lives a humble life that includes driving his girlfriend's mom's minivan rather than taking on a hefty car payment. On Tuesday night, we met the […]
MORE STORIES >>
Bengals News

Delivered to your inbox

You'll also receive Yardbarker's daily Top 10, featuring the best sports stories from around the web. Customize your newsletter to get articles on your favorite sports and teams. And the best part? It's free!