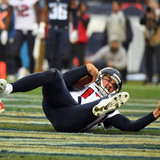 NFL free agency frenzy is in full swing, and players signed new deals left and right during the first wave. Things happened so fast, it was difficult to keep track of all of the activity.Not surprisingly some players are signing some pretty hefty contracts. Contracts that at least a few of them won't exactly live up to. There are bound to be free agency signings that inflict some...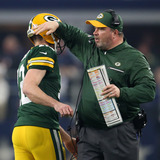 Aaron Rodgers is defending his head coach against criticism from outsiders. Well, in this case, a specific outsider.Greg Jennings, who played from the Packers from 2006-2012, has been critical of the team since his departure. His most recent comments were aimed at Mike McCarthy."If we had a lead, our issue wasn't the defense, our issue was Mike McCarthy," Jennings said on FS1's ...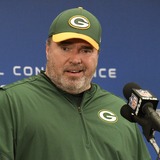 Former NFL wide receiver Greg Jennings is five years removed from taking to Lambeau Field as a member of the Green Bay Packers. The retired former Pro Bowler also hasn't played in the NFL for two years.This didn't stop Jennings from providing his opinion on the Green Bay Packers and head coach Mike McCarthy. And in reality, Jennings seemed to throw his former head coach under the...
Fresh off a season with the Miami Dolphins, Greg Jennings is once again having his say on quarterback Ryan Tannehill. Jennings, who recently announced his retirement from the NFL, said that Tannehill could conceivably be a star, but it's hard to say definitively given the limitations put on him by Miami. "I believe that he has what it takes, but because his hands have been tied...
Two-time Pro Bowl receiver and Super Bowl champion Greg Jennings is retiring from the NFL after 10 seasons. Jennings announced his retirement via a YouTube video. "Football is over. I'm done," Jennings said. "No more big hits. No more 'Touchdown! Greg Jennings,' at least within the lines of a football field. I'm done, and I'm excited to be done. The past 20 years of my life has...
Greg Jennings spent two seasons with the Minnesota Vikings, and he enjoyed it so much that he's openly pushing for a return to the team. Jennings spoke to KFAN 100.3 on Wednesday and he made clear his desire to return to Minnesota. "I left [general manager Rick Spielman] a voicemail," Jennings told KFAN, via A.J. Mansour of KFAN.com. "I told [them], I'm waiting on you guys. "I miss...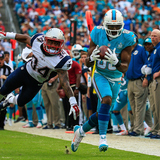 In an attempt to continue saving money against the cap in the lead up to free agency, the Miami Dolphins have released veteran receiver Greg Jennings. We have released wide receiver Greg Jennings. — Miami Dolphins (@MiamiDolphins) March 6, 2016 This move comes a little less than a calendar year after the Dolphins signed the former Green Bay Packers and Minnesota Vikings pass...
As the months have gone by in the aftermath of the Miami Dolphins disappointing 2015 season, more and more information has begun spilling out of the locker room regarding all that was wrong with the methods used by the coaching staff and players alike.Now a player has come out publicly and suggested that the way the Dolphins coaching staff did things wasn't necessarily the correct...
Jennings went from receiver No. 1 to Public Enemy No. 1 in Green Bay, and it virtually happened overnight. Here's a look back at how we got there.       Former Green Bay Packer Greg Jennings is among the best wide receivers to ever don the green and gold – you don't have much ground to stand on if you argue otherwise. Jennings ranks No. 5 all time in receiving touchdowns for the...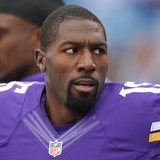 By Vincent Frank A day after acquiring one under-performing receiver in Mike Wallace, the Minnesota Vikings have sent another struggling pass catcher packing.The tea announced the release of veteran Greg Jennings on Saturday afternoon. Jennings spent just two seasons in Minnesota. Jennings, 31, was originally signed to a five-year, $45 million contract by the Vikings back in 2013...
MORE STORIES >>
Packers News

Delivered to your inbox

You'll also receive Yardbarker's daily Top 10, featuring the best sports stories from around the web. Customize your newsletter to get articles on your favorite sports and teams. And the best part? It's free!