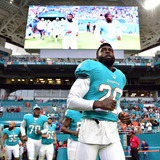 The Miami Dolphins have signed safety Reshad Jones to a five-year, $60 million contract extension, per ESPN's Adam Schefter. The deal includes $35 million guaranteed. Jones, 29, has been one of the best safeties in the league for a long time. Last season, he ranked sixth at the position per Pro Football Focus grading at 88.5, the fourth time in the last five years with a grade above...
Isa Abdul-Quddus jumped on to the scene in his first season with the Miami Dolphins, starting all 15 games in which he appeared in 2016. He responded by putting up 77 tackles, two interceptions and five passes defended.Unfortunately for both the Fordham product and his team, there's a chance Abdul-Quddus could miss the entire 2017 season with a neck injury."The Dolphins are preparing...
DAVIE, Fla. (AP) Safety Isa Abdul-Quddus will miss the rest of the season for the playoff-bound Miami Dolphins after hurting his neck Saturday at Buffalo. He was placed on season-ending injured reserve Wednesday when the Dolphins also promoted undrafted rookie free agent safety A.J. Hendy from the practice squad. Abdul-Quddus had been the only player in the Dolphins' injury-plagued...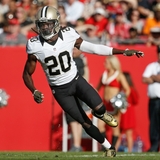 Whether it's Kasim Edebali, Isa Abdul-Quddus, Brian Dixon, Willie Snead or Bobby Richardson – there always seems to be a couple guys every year that make the 53 man roster and become contributors. And it's often times not someone we expect. Some of us saw Snead and/or Richardson happening, yes, but Edebali, Abdul-Quddus and Dixon blindsided almost everyone, media included. So I'm...
MIAMI (AP) Safety Isa Abdul-Quddus has signed a $12.75 million, three-year contract with the Miami Dolphins. Abdul-Quddus is a five-year veteran who started 12 games for Detroit over the past two seasons. He's expected to start at safety alongside Pro Bowler Reshad Jones. ''I'm excited to join the Miami Dolphins!'' Abdul-Quddus tweeted Wednesday. ''Can't wait to get to work!''...
The Dolphins continue to rebuild their secondary. Per NFL Network's Ian Rapoport, on Wednesday afternoon, about an hour after the official beginning of the new league year, the Miami Dolphins signed former Detroit Lions safety Isa Abdul-Quddus to a 3-year, $12.75 million dollar contract.This is the second time the Dolphins have brought in a former Lions safety to play opposite Jones...
The 2015 season took an unexpected turn for Detroit Lions safety James Ihedigbo. He started for the first half of the season, but Isa Abdul-Quddus replaced him in the starting lineup for the second half.The Lions went 1-7 with Ihedigbo in the starting lineup and 6-2 after Abdul-Quddus stole his job. The 32-year-old veteran described that development as "humbling."Via ESPN's Michael...
This has not been a banner season for Philadelphia Eagles wide receiver Jordan Mathews. not only has he had a bad case of the drops this season, but the one thing that he seems to do with regularity you wish he wouldn't. What is that one thing? Take devastating hits that almost hurt to watch.His latest one came at the hands of Lions safety Isa Abdul-Quddus: OUCH!!! #PHIvsDET pic...
ALLEN PARK, Mich. (AP) The Detroit Lions have re-signed safety Isa Abdul-Quddus to a one-year contract and linebacker Josh Bynes to a two-year deal. Abdul-Quddus joined the Lions as a free agent in 2014 and added depth to the secondary. He played in all 16 games last season, including four starts. Bynes joined the Lions early last season via the Baltimore Ravens' practice squad...
I had the tremendous opportunity to meet Isa Abdul-Quddus in person this week and interview him, as you can see pictured here. It was a true honor to hang out for an hour with a quality person and player. Abdul-Quddus came from relative anonymity as an undrafted rookie free agent from Fordham last year to making the Saints' 53 man roster on opening day. He was able to stay on the...
MORE STORIES >>
Dolphins News

Delivered to your inbox

You'll also receive Yardbarker's daily Top 10, featuring the best sports stories from around the web. Customize your newsletter to get articles on your favorite sports and teams. And the best part? It's free!