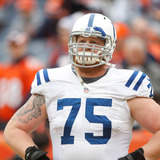 The offensive line of the Indianapolis Colts has long been an area of concern. Things just got worse, as offensive guard Jack Mewhort is believed to have torn his ACL during Sunday's shootout against the Detroit Lions. #Colts G Jack Mewhort, a key cog on their OL, is believed to have torn his ACL, source said. An Andrew Luck bodyguard done for the season — Ian Rapoport (@RapSheet...
It was a promising showing by the Indianapolis Colts in their first pre-season game, including, surprisingly, the first team offensive line. That is, until, Khaled Holmes hurt his ankle. Now, thankfully, he will be back in time for the season opener, but missing these next few weeks will really hurt in gaining chemistry with his fellow linemen and quarterback Andrew Luck. I have...
The Indianapolis Colts had a below average draft this year with the choices they made being only limited to five selections. This left room for a lot of undrafted rookies to be signed with the Colts as they look to establish their roster for the 2014 season. Now a lot of these undrafted rookies will have a lot to overcome during this offseason and in the preseason as well. With that...
Before we dive into grading each pick, I just want to say that grading picks this early on isn't ideal. It is difficult to say whether or not this was a bad pick or good pick based on what 'experts' and others think about the player. However, this is a necessary evil, and quite an enjoyable one at that, so let's get it started: Round 2: Jack Mewhort, OL, Ohio State This pick was...
The Indianapolis Colts had a less than impressive draft this year. With only having five total picks this year and not making any trades to gain more picks or even find a way to get back into the first round, the Colts had to be very selective when it came to their choices. Most of these choices were far from impressive. 2nd round (59 overall) – Colts select tackle Jack Mewhort ...
MORE STORIES >>
Panthers News

Delivered to your inbox

You'll also receive Yardbarker's daily Top 10, featuring the best sports stories from around the web. Customize your newsletter to get articles on your favorite sports and teams. And the best part? It's free!