The story of Jeremiah Ratliff continues to get stranger. A week after the defensive tackle was escorted from team facilities by security and subsequently cut after an altercation with general manager Ryan Pace, more information has been revealed, none of it good. Per the police report, obtained by TMZ, Ratliff walked into the Bears facility on October 21st to grab some of his personal...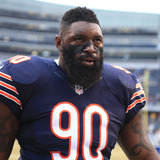 Former Chicago Bears defensive lineman Jeremiah Ratliff went on a verbal rampage at the team's facility the day he was released earlier this month, according to the police report from the incident. The report, which you can read here, stated that Ratliff left Bears headquarters and returned a short time later to gather some personal belongings. Team security refused to allow him...
Former Chicago Bears defensive tackle Jeremiah "Jay" Ratliff was released by the team last week after several reported exchanges between him and the organization.According to the Chicago Tribune, the release came after Ratliff displayed erratic behavior during a "bizarre and emotionally charged chain of events."Apparently the four-time Pro Bowler got into a couple heated exchanges...
Ryan Pace isn't messing around in his first year as the general manager of the Chicago Bears. Having traded away veterans Jonathan Bostic and Jared Allen already this season, he cut defensive tackle Chicago Bears cut DT Jeremiah Ratliff following altercation with GM Ryan Pace after the two had a clash on Wednesday. Things were so heated that Ratliff was forcibly removed by security...
The Chicago Bears signed former Dallas Cowboy Jay Ratliff last week. And while that's what certainly garnered most of the headlines from Chicago media outlets, an underlying positive to the deal lies. Especially if your name is Corey Wooton. The Bears have been decimated on the defensive line this season, to put it lightly. In terms of injuries and a simple lack of talent. Pro bowl...
MORE STORIES >>
NFL News

Delivered to your inbox

You'll also receive Yardbarker's daily Top 10, featuring the best sports stories from around the web. Customize your newsletter to get articles on your favorite sports and teams. And the best part? It's free!