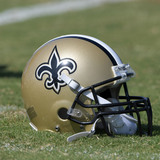 The Saints' contracts for linebacker Jayrone Elliott and wide receiver Josh Huff were disapproved by the league, according to the league's transactions wire. It's not immediately clear why the deals were voided, but Herbie Teope of the Times-Picayne (Twitter link) notes that the Saints were at the 90-man roster maximum before agreeing to deals with both players. It's possible that...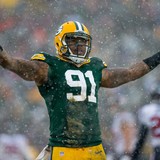 The Saints signed linebacker Jayrone Elliott to a futures deal, as Nick Underhill of The Advocate tweets. The former Packer and Cowboy is now slated to be a part of the team's 90-man roster and will push to make the final 53-man cut in September.  Elliott joined the Packers as a UDFA in 2014 and appeared in 38 games for the team over the course of three years. Before the final cuts...
The NFC North is full of story lines through the first five weeks of the NFL season. Four players that I felt would perform well for their teams from the division last week didn't live up to my expectations. Green Bay Packers defender Jayrone Elliott only accumulated three tackles and now has 12 tackles on the season. Chicago Bears tight end Martellus Bennett caught only four passes...
In an ironic twist of fate, the Seattle Seahawks think the referees jobbed them in last night's "Sunday Night Football" matchup against the Green Bay Packers. Head coach Pete Carroll and his players believe the refs made the wrong call on a fumble in the fourth quarter with the game on the line. Russell Wilson had just thrown an interception to Packers lineman Jayrone Elliott, who...
Despite recording 5 sacks last preseason and having a body made for getting after the quarterback, Jayrone Elliott was used as a pass rusher a mere 29 times in 2014. That number needs to go up. A lot. The former Toledo star isn't going to be the next Justin Houston, but he certainly has the potential to be better than Nick Perry and Mike Neal, who were allowed to pin their ears back...
Jayrone Elliott Has Odd Goals Outside linebacker Jayrone Elliott was one of those guys who tore it up during the preseason for the Green Bay Packers last year. As an undrafted free agent, ... Packers host 7-on-7 Passing Tournament GREEN BAY - The Green Bay Packers are off for the next month. But that doesn't mean their facilities need to take a break, right? The Don Hutson...
Green Bay Packers linebacker Jayrone Elliot has set a goal for himself this season: to make the Pro Bowl as a special teamer. He told Ryan Wood of Press-Gazette Media about his lofty goal, singling out a certain Atlanta Falcon as the player he emulates."Pro Bowl for special teams," Elliott said, via Press-Gazette Media. "I don't want to set (my goal) too high, but you've got to set...
For each of the past six seasons, an undrafted free agent outside linebacker has made the 53-man roster. From Cyril Obiozor to Frank Zombo to Vic So'oto to Dezman Moses to Andy Mulumba to Jayrone Elliott, it's been as much a part of summer as a Jimmy Buffet concert. Will this unlikely streak continue? My early guess is no. In other summers, players as talented as LSU's Jermauria...
Regardless of how he plays tonight and next Thursday, the Packers need to find room on the 53-man roster for rookie outside linebacker Jayrone Elliott. And my opinion has nothing...
He was far from the most coveted undrafted free agent the Packers signed after the draft, but up to this point, there hasn't been an undrafted free agent who has made more of an impression than Jayrone Elliot. At Toledo, where he played defensive end, Elliott had 16 sacks, including 9 his senior season. He earned first team 2013 All-MAC honors, along with Buffalo's Khalil Mack, who...
MORE STORIES >>
Saints News

Delivered to your inbox

You'll also receive Yardbarker's daily Top 10, featuring the best sports stories from around the web. Customize your newsletter to get articles on your favorite sports and teams. And the best part? It's free!