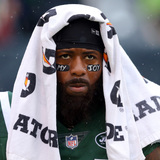 The Jets have released wide receiver Jeremy Kerley. The veteran was slated to return from suspension this week.  Kerley was handed a four-game ban for performance-enhancing drugs in early November. At the time, Kerley denied intentionally ingesting anything banned by the league's collective bargaining agreement:"I was shocked by a positive test for Turinabol, as I have never knowingly...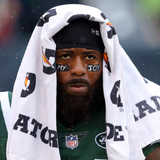 New York Jets receiver Jeremy Kerley has been suspended four games by the NFL for violating the league's PED policy. Specifically, Kerley tested positive for Turinabol, an anabolic steroid, though he says he never knowingly took the substance."I was shocked by a positive test for Turinabol, as I have never knowingly taken any banned substances. I am 5-foot-9 tall and 180 pounds,...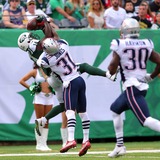 Receiver Jeremy Kerley is having quite a game in the early going for the surprising New York Jets against the New England Patriots.After making a brilliant catch to set up his team for a score in the first quarter, Kerley got free against Malcolm Butler and took the ball in himself for a 31-yard touchdown. The touchdown put New York up 14-0 on Tom Brady and the Patriots early in...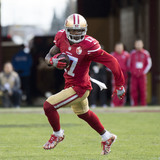 The New York Jets, needing help at wide receiver, have reportedly signed free agent Jeremy Kerley. The veteran was recently surprisingly released by the San Francisco 49ers after signing a three-year contract this spring. Kerley is coming off a 2016 season in which he caught 64 passes for 667 yards and three touchdowns. He'll rejoin the Jets after spending one year in San Francisco...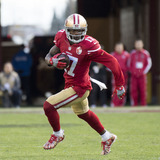 Jeremy Kerley had his worst season as a pro with the New York Jets in 2015 before he became a key piece of the San Francisco 49ers' offense last season. I guess that's what happens when you have an offensive coordinator you respect.In an interview with SiriusXM NFL Radio this week, Kerley spoke about catching only 16 passes in 16 games back in 2015. He blamed former Jets offensive...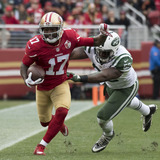 The San Francisco 49ers might not have a quarterback on the roster, but they made sure to keep one of their most-productive pass catchers.San Francisco announced on Saturday that it has re-signed wide receiver Jeremy Kerley to a three-year contract. The 28-year-old receiver was one of the few bright spots on an otherwise talent-stricken offense last season. Kerley recorded 64 receptions...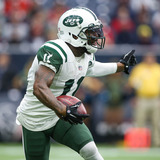 Jeremy Kerley had his worst season as a pro in 2015, which is the main reason why he signed only a one-year deal worth around $1 million with his new team. But if the Detroit Lions actually throw him the ball, Kerley believes they will be happy with their investment. Kerly says he was not part of the plan when the New York Jets brought in a new coaching staff. "It was the opportunity...
The New York Jets continued to be active with their roster building by bringing back wide receiver Jeremy Kerley today on a 4 year extension. Kerley will receive 16 million over the 4 years with 5.4 million guaranteed. Kerley has been the team's most productive and consistent receiver since the middle of the 2011 season, when he was first given the opportunity to play offense....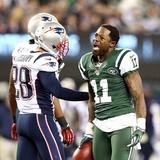 Here at Turn On The Jets, we decided to take a page out of Robert Mays book over at Grantland (a polite way of saying rip his article idea off) by counting down the 115 days until the New York Jets kick off, with a daily reason to get excited about their return. Mays has the whole NFL to work with, we only have the Goddamn Jets…now there is a challenge, step your game up Mays!  We...
For all the talk us Jets fans have been dealing with in terms of coaches and players staying or leaving in the past couple of weeks. Here are three players who will be around next year that should be ready to take their play to the next level - Jeremy Kerley - Prior to the departure of Derrick Mason, Kerley saw limited action. However, after Mason was traded to Houston, Jet fans...
MORE STORIES >>
NFL News

Delivered to your inbox

You'll also receive Yardbarker's daily Top 10, featuring the best sports stories from around the web. Customize your newsletter to get articles on your favorite sports and teams. And the best part? It's free!