We've updated our Privacy Policy.
By continuing to use this site, you are agreeing to the new Privacy Policy.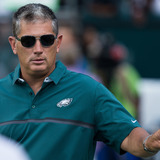 Following up on a previous report, it now looks like the New York Giants have indeed requested permission to speak with Philadelphia Eagles defensive coordinator Jim Schwartz about the team's head coaching vacancy. An interview will reportedly happen over the weekend. Schwartz was immediately bandied about as a possibility for the job once former head coach Ben McAdoo was fired in...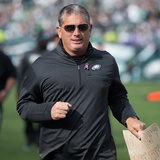 The Giants have formally requested an interview with Eagles defensive coordinator Jim Schwartz, according to Adam Schefter of ESPN.com (on Twitter). The interview is expected to take place this weekend in Philadelphia.  As of Wednesday morning, the Giants had not submitted a request to speak with Schwartz, leading to speculation that the team had cooled on him. Apparently, that is...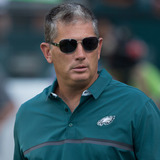 Late last month, it was reported that Jim Schwartz was among the favorites (or possibly the favorite) to become the next head coach of the Giants. It now seems possible that the Giants have cooled on him. To date, the Cardinals are the only team to have formally requested an interview with Schwartz, according to Ian Rapoport of NFL.com (via PFT).  The Eagles defensive coordinator...
LIKE WHAT YOU SEE?
GET THE DAILY NEWSLETTER: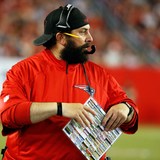 Bruce Arians' New Year's Day retirement has the Cardinals searching for a new head coach for the first time in five years, and the franchise has been busy in its opening stages of filling Arians' post.The Cardinals have requested permission to interview Eagles DC Jim Schwartz and Patriots DC Matt Patricia, Ian Rapoport of NFL.com tweets. This comes on the heels of reports the Cards...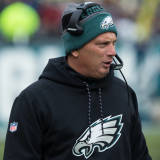 The New York Giants will be looking for a new head coach as soon as the 2017 season ends, and one name that we continue to hear mentioned in connection with the position is Jim Schwartz.ESPN's Adam Schefter said Sunday that Schwartz is considered one of the favorites — if not the favorite — to land the Giants job. Schwartz, currently the defensive coordinator for the Philadelphia...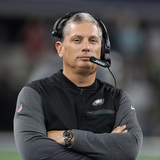 New York Giants new general manager Dave Gettleman isn't afraid to make changes. After all, he's already working quite quickly. But filling their head coaching vacancy is a top priority. But that could be filled sooner than later. And the Giants aren't going far to find him either. Reports indicate they are after Eagles defensive coordinator Jim Schwartz. He's the favorite.But is...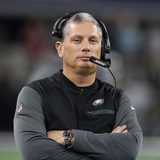 The New York Giants will be hiring a new head coach this offseason, and they could be looking at an assistant from a division rival.According to NFL.com's Michael Silver, Philadelphia Eagles defensive coordinator Jim Schwartz will be a "strong candidate" for the Giants' position. Schwartz has gained accolades for his performance with the Philadelphia defense since he took over and...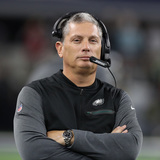 Having moved rather quickly to replace Jerry Reese with former Reese lieutenant Dave Gettleman, the Giants now are focused on filling their HC vacancy. Ernie Accorsi will not "officially" be part of this search for their next head coach, John Mara said (via James Kratch of NJ.com, on Twitter). Accorsi won't sit in on interviews, but the ex-Big Blue GM will be a resource in the process...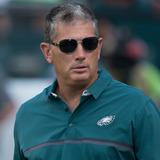 The New York Giants are looking for a man with extensive experience to replace Ben McAdoo as the next head coach of the storied franchise. And now we have a name — Jim Schwartz — that matches that description and has some ties to the people in charge of making the call.According to Mike Florio of Pro Football Talk, Schwartz has a solid chance of being the next coach in the Big Apple...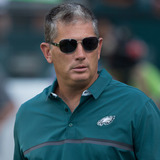 It wouldn't be an NFL season without some drama surrounding Philadelphia Eagles defensive coordinator Jim Schwartz. Considered a brilliant defensive mind, Schwartz himself is also seen as a highly enigmatic figure.So it shouldn't be a surprise that on the eve of Philadelphia's Week 1 game against the Washington Redskins, one report surfaced that Schwartz is attempting to unseat Doug...
MORE STORIES >>
NFL News

Delivered to your inbox

You'll also receive Yardbarker's daily Top 10, featuring the best sports stories from around the web. Customize your newsletter to get articles on your favorite sports and teams. And the best part? It's free!