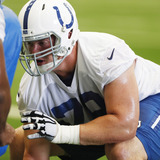 The Colts have placed two starters on injured reserve. Linebacker Jon Bostic and center Ryan Kelly will both be shut down in advance of Saturday's penultimate game against the Ravens. In a related move, the team has signed free agent defensive tackle Caraun Reid.  Kelly has played only seven games this season thanks to injuries. The center missed the start of the year due to foot...
Ryan Pace isn't messing around in his first year as the general manager of the Chicago Bears. Having traded away veterans Jonathan Bostic and Jared Allen already this season, he cut defensive tackle Chicago Bears cut DT Jeremiah Ratliff following altercation with GM Ryan Pace after the two had a clash on Wednesday. Things were so heated that Ratliff was forcibly removed by security...
Cutler is out for at least 4-6 weeks, leaving many Bears' fans in a state of panic The Chicago Bears' worst nightmare has come true. Quarterback Jay Cutler and linebacker Lance Briggs were injured in Sunday's game against the Washington Redskins. Cornerback and ball-hawker Charles Tillman reinjured his right knee he tweaked earlier in the season. While the Tillman injury in not insignificant...
The Chicago Bears (4-2) head to D.C. to take on the Washington Redskins (1-4) Sunday at noon. This season has been a bewildering one for the Redskins, who are a year removed from an NFC title. Quarterback Robert Griffin III expected to come back from his ACL injury and do very well off the bat, but that has not been the case. He has thrown five interceptions through five games so...
Chicago Bears' middle linebacker D.J. Williams suffered a season-ending chest injury in last week's victory. Rookie  linebacker Jonathan Bostic, who impressed in the preseason, will take his place this Sunday at the Washington Redskins. Like it or not, the NFL is a next man up league. Bostic assumed that role in the preseason when Williams was out all four weeks with a strained calf...
A person familiar with the situation says Chicago Bears linebacker Jonathan Bostic has been fined $21,000 for a hit during last week's preseason game against San Diego. The person spoke Wednesday on the condition of anonymity because the fine has not been announced. A second-round draft pick out of Florida last spring, Bostic delivered a hit to the Chargers' Mike Willie during...
If the NFL is not careful it is going to take the fun out of the NFL. What did the league do this time you ask? It fined Chicago Bears rookie linebacker Jonathan Bostic $21,000 for this hit on Chargers wide receiver Mike Willie during a recent preseason contest. @hoopgifs/Twitter This is just crazy. He didn't lead with the helmet at all, in fact he hits him with his shoulder...
It is going to be weird this season watching the Chicago Bears play without Brian Urlacher in the game, but if you can make any sort of judgement based off of preseason play they might have his replacement in rookie Jonathan Bostic. The former Florida Gator certainly gave Bears fans reason to take notice of him and forget that other guy when he put this hit on San Diego's Mike...
MORE STORIES >>
Colts News

Delivered to your inbox

You'll also receive Yardbarker's daily Top 10, featuring the best sports stories from around the web. Customize your newsletter to get articles on your favorite sports and teams. And the best part? It's free!