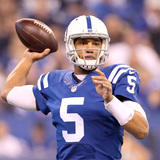 Former first-round draft pick Josh Freeman has a new gig. But it's not going to be in the NFL. Instead, the 30-year-old is going to the Canadian Football League. Reportedly, the Montreal Alouettes are bringing him in on a two-year deal.Freeman is a very interesting case. He would find success early on in his career before flaming out pretty quickly. Drafted 17th overall by the Tampa...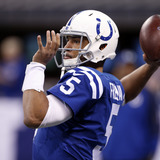 Former first-round draft pick Josh Freeman was a member of five NFL teams during his career in the league, and he had previously been out of football for awhile, until now.Freeman, who last played in an NFL game on Jan. 3, 2016 when he suited up for the Colts in a meaningless Week 17 game against the Titans, was released by the team just two months later. It appeared as if his football...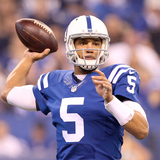 After starting in only one game for the Indianapolis Colts in 2015, Josh Freeman was released by the team on Monday. ROSTER UPDATE: We have released quarterback Josh Freeman. https://t.co/i19oSucsMW — Indianapolis Colts (@Colts) March 7, 2016 This news comes just a few days after the team parted ways with Matt Hasselbeck, who spent three seasons as a backup to Andrew Luck. Besides...
After sending third-string quarterback Charlie Whitehurst to the IR on Monday, the Indianapolis Colts signed Josh Freeman to the active roster Tuesday, per ESPN's Adam Schefter. Andrew Luck has been ruled out, as has Matt Hasselbeck, leaving Stephen Morris as the only other active quarterback on the roster before the signing. Morris was a 30-game starter at the University of Miami...
By Jesse Reed Josh Freeman must feel like Alice these days—things just keep getting curiouser and curiouser. Four days after being released by the Miami Dolphins, the once-heralded quarterback has been signed yet again, as the team announced on Twitter. We have signed free agent quarterback Josh Freeman. — Miami Dolphins (@MiamiDolphins) July 28, 2015 It's hard to know what...
By Vincent Frank Back in 2010, a strong-armed second-year player from Kansas State was all the talk around the Tampa Bay Buccaneers. After struggling a tad as a rookie the previous season, Josh Freeman put up one of the best sophomore performances for a quarterback in recent history. That season saw Freeman tally nearly 3,500 yards with 25 touchdowns and just six interceptions...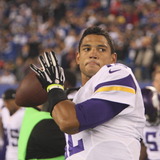 By Larry Brown Tim Tebow isn't the only former NFL quarterback to get a look from a team on Monday. Josh Freeman was also in the mix. Bleacher Report's Mike Freeman reported Monday that Freeman worked out for the Jets and supposedly "did well." Josh Freeman had recent workout with Jets. I'm told he did well. Several other teams taking hard look at him. — mike freeman (@mikefreemanNFL...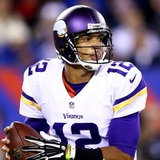 When quarterback Josh Freeman joined the Minnesota Vikings in the middle of this season, most saw it as a puzzling signing by a desperate franchise. Now that the season is over, it's pretty obvious that Freeman didn't do anything to deserve his job and it would be shocking to see the now-free agent signal-caller back in the NFL in the future. Reports out of Minnesota now claim that...
When the Tampa Bay Buccaneers and disgruntled quarterback Josh Freeman were butting heads, things got personal. Information about his involvement in the league's drug program was leaked and many immediately called it foul play on behalf of the Bucs. But this morning, via JoeBucsFan.com, highly reputable Tampa Tribune journalist Ira Kaufman has good intel that the leaks came from...
MORE STORIES >>
NFL News

Delivered to your inbox

You'll also receive Yardbarker's daily Top 10, featuring the best sports stories from around the web. Customize your newsletter to get articles on your favorite sports and teams. And the best part? It's free!