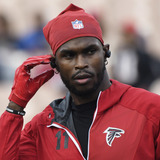 With one single tweet about Saquon Barkley, the folks at NFL research managed to tick off a couple of guys who dominated in the NFL at a high level for quite some time. Both Devin Hester and Julio Jones had some interesting responses to this tweet. We know that NFL players, like all professional athletes, are extremely competitive. We also know both Hester and Jones are freak athletes...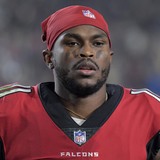 Falcons receiver Julio Jones has a fairly extensive injury history, but he hasn't allowed that to hamper his production on the field.Jones, who has dealt with injuries to his hip flexor, ankle, thumb, and back during his career, is one of the top three receivers in the league. He's a matchup nightmare for opposing defenses, and is one of the main reasons the Falcons have been successful...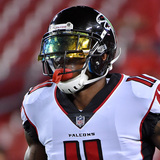 Atlanta Falcons wide receiver Julio Jones is nursing an ankle injury. But it appears he will be able to play in this Sunday's game.Head coach Dan Quinn shared his perspective of where Jones is at currently trying to get ready for Sunday's game."His explosion, even if it wasn't at `Julio explosiveness' would pretty much be world class in a lot of ways, Quinn said, per Vaughn McClure...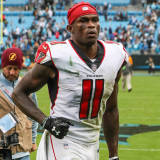 The Atlanta Falcons are dealing with another key injury at an important point of the season.Coach Dan Quinn revealed Monday that wide receiver Julio Jones is dealing with a lower leg injury and will be limited in practice as a result. Jones has just one touchdown in 2017, a far cry from his normal numbers. If he was dealing with an injury during Sunday's game against the Carolina...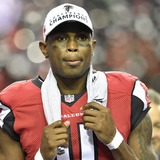 Atlanta Falcons All-Pro wide receiver Julio Jones pulled down a modest six receiving TDs in 2016, and now the focus for the team is on improving that total.Kelsey Conway of the Falcons official website reported Monday that Atlanta seems to be emphasizing more red zone touches for Jones in training camp with head coach Dan Quinn saying that the four-time Pro Bowler is "a real factor...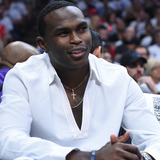 Falcons stud receiver Julio Jones recently misplaced something very important to him, and he seems willing to do whatever he can to get it back.Jones recently went jet skiing in a Georgia lake, but unfortunately for him, he hit a wake and a $100,000 earring he was wearing fell into the water. After a bit of searching, he could not recover it.So he enlisted some help from Bobby Griffin...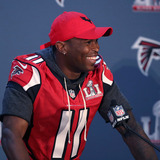 Note to self: When wearing ridiculously expensive jewelry, take it off before playing in a lake. This is what Julio Jones should have told himself before taking a jet ski for a spin in Lake Lanier Tuesday. Unfortunately for him, he did not, and in the process lost a $100,000 earring.Thankfully, being that he's Julio Jones, it wasn't a big deal to pay a diving team to go look for...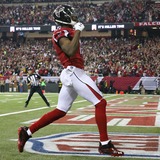 New Atlanta Falcons offensive coordinator Steve Sarkisian believes Julio Jones deserves more attention in the red zone than he's been getting. Making sure to give credit where credit is due, Sarkisian said he wants to build on the foundation Kyle Shanahan left behind. "The competitor in me is, 'How far can we take it?'" Sarkisian said Wednesday, per ESPN's Vaughn McClure. "I think...
Atlanta Falcons wide receiver Julio Jones still might need surgery on his injured foot.According to Falcons coach Dan Quinn, Jones will be checked out by doctors later in the week to determine a treatment plan for his bad foot, which may include a surgical procedure. Jones spent the latter part of the season battling a number of foot issues, including a sprained toe. We heard back...
Head coach Dan Quinn and the Atlanta Falcons are no longer worried about Julio Jones' sprained toe. According to Vaughn McClure of ESPN, Quinn said Jones looked "good" and "explosive" at practice this week. "He looked good over the last couple of days, so I'm not going to monitor him," Quinn said. "If it gets sore, then we'll take him out. He looked good in practice today. He looked...
MORE STORIES >>
Falcons News

Delivered to your inbox

You'll also receive Yardbarker's daily Top 10, featuring the best sports stories from around the web. Customize your newsletter to get articles on your favorite sports and teams. And the best part? It's free!