The Lions are expected to visit with Matt Slauson on Friday and one of his former teammates with the Chargers will be there to welcome him to Detroit if it goes off as planned. The Lions announced on Thursday that they have signed guard Kenny Wiggins. No terms of the deal were disclosed. Wiggins started [more]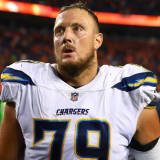 Kenny Wiggins has been lauded for his versatility throughout his career. Now on the verge of free agency, the Chargers offensive lineman says that he is solely focused on playing guard.  "I've always said the more you can do, the less you get paid," Wiggins said. "It's the truth. You've got to be able to play in one spot and play it well. If you can play a bunch of spots but you...
Here's a collection of the best tweets from day 1 of camp Training Camp for the 2017 Season kicked off today for the Los Angeles Chargers so it's time for the Daily Twitter round up, as nobody can watch everything at the same time. We will post an article like this every day of camp that is open to the public, as all the various eyes on the ground share what they see. It looks...
Chris Hairston, Kenny Wiggins, Trevor Robinson, D.J. Fluker and Joe Barksdale. Nope, that's not the names of the members of the London rock band Mumford & Sons, it's the names of the five players who started on the San Diego Chargers offensive line last Sunday against the Cleveland Browns. In... The post Steelers Defensive Front Should Dominate Chargers Banged Up Offensive Line...
The 49ers signed offensive tackle Kenny Wiggins and guard Garrett Chisolm and to reserve/future contracts today. Wiggins (6-6, 314), 23, was released by the 49ers following training camp and ended the season on the Ravens' practice squad. A native of Elk Grove, Wiggins was a two-time all-WAC...
MORE STORIES >>
Lions News

Delivered to your inbox

You'll also receive Yardbarker's daily Top 10, featuring the best sports stories from around the web. Customize your newsletter to get articles on your favorite sports and teams. And the best part? It's free!