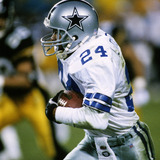 In a league where "defense wins championships," it's amazing how seldom defensive players are truly recognized on the grandest stage of American sports: the Super Bowl. Typically speaking, a player on the offensive side of the football makes all the headlines and takes home the MVP award, but every few years it's a defensive player who stands out most in the Super Bowl. They may...
We already know how many of 2002 Oakland Raiders feel about the recent allegations Tim Brown made claiming that former coach Bill Callahan intentionally threw Super Bowl XXXVII. Aside from Jerry Rice, it appears that Brown's opinion is not one that was shared by many members of the team. And it certainly isn't shared by the Tampa Bay Buccaneers, who feel they earned the victory....
This is still considered a "report," which is journalist-speak for a "strong rumor," but the Milwaukee Journal-Sentinel is reporting that the Bucks are on the verge of naming Scott Skiles as their new head coach. Regular readers know I'm a Bucks fan, so getting this hire right is especially important to me. Part of me would love to see Larry Brown get the job, but he's pretty...
Great post by Larry Brown Sports.
MORE STORIES >>
NFL News

Delivered to your inbox

You'll also receive Yardbarker's daily Top 10, featuring the best sports stories from around the web. Customize your newsletter to get articles on your favorite sports and teams. And the best part? It's free!