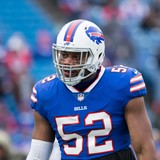 There is a ton of cash to spend by NFL teams this spring as free agency kicks into high gear. Players like Kirk Cousins and Allen Robinson are going to haul in what will be humongous deals, yet there are NFL free agents out there who are flying under the radar — guys who'll end up being tremendous bargains in hindsight.Big-money, long-term deals are often looked at in hindsight as...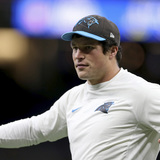 Panthers All-Pro linebacker Luke Kuechly is recovering from shoulder surgery, a source tells the Charlotte Observer's Joseph Person. The procedure was on his right shoulder, not the left one that underwent surgery in 2015 to repair a torn labrum. Kuechly was slated to appear in the Pro Bowl in January but skipped it with an unspecified injury.Though he played in 15 of 16 games,...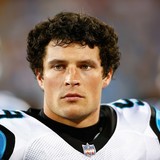 Panthers All-Pro linebacker Luke Kuechly was fairly quiet in the team's 31-26 loss to the Saints on Sunday — with four total tackles and one hit on quarterback Drew Brees — but he was outspoken after the game, in talking about team owner Jerry Richardson.Kuechly opened up to reporters after the NFC Wild Card game and got emotional in speaking about how he'll miss having Richardson...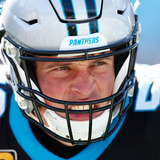 Someone is a huge fan of linebacker Luke Kuechly and the Carolina Panthers. He goes by the name Ethan Hurst and is an eight-year-old from Ohio.And the youngster decided to decorate his Christmas tree this year as a way to pay homage to the former NFL Defensive Player of the Year.It's pretty tremendous stuff. From the helmet on top of the tree to Kuechly's jersey number and the ornaments...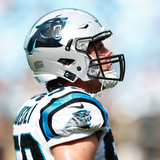 Carolina Panthers linebacker Luke Kuechly has been in the concussion protocol since last week and has been ruled out of Sunday's game against the Chicago Bears. Kuechly has not practiced this week after suffering his third concussion in as many seasons during last Thursday's game against the Philadelphia Eagles. He was injured when Eagles offensive guard Brandon Brooks pulled around...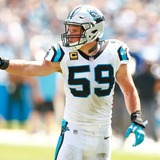 Luke Kuechly entered the concussion protocol after leaving Thursday night's game against the Philadelphia Eagles with an injury, but fortunately the star linebacker has been cleared to this point.ESPN's Adam Schefter reports that Kuechly did not suffer a concussion and is expected to play in Week 7 after sustaining a shoulder/neck injury. Those close to Kuechly say he was at the...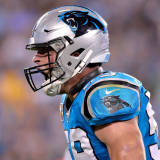 Luke Kuechly left Thursday night's game against the Philadelphia Eagles after sustaining a concussion, his third in the last three years.Kuechly collided with an Eagles lineman late in the first half on a LeGarrette Blount running play inside the 10. He ended up being hit on his left side.The Carolina Panthers linebacker left the game with what was initially an undisclosed injury...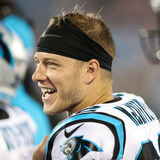 Someone needs to let Panthers rookie running back Christian McCaffrey know that he needs to take it easy on his teammates, and save the sick moves for the regular season.The eighth overall pick in the 2017 NFL Draft has already been showing up in flashes during training camp, and Wednesday's practice was no different.McCaffrey was simulating coming out of the backfield and getting...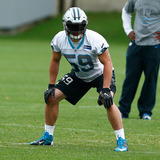 Despite suffering concussions the last couple of seasons, Carolina Panthers linebacker Luke Kuechly won't change the way he approaches the game."You play the game and don't think about getting hurt because that slows you down and increases the likelihood of getting hurt," he said, per David Newton of ESPN. "I don't think about it. You just go out there and play. You've got to play...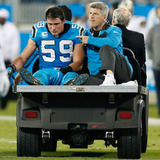 Carolina Panthers linebacker Luke Kuechly missed his third consecutive game with a concussion last Sunday. And while head coach Ron Rivera told reporters last week that no decision has been made about shutting him down, several players that know Kuechly believe he should sit out the rest of the season. Four veteran players sent messages to Bleacher Report's Mike Freeman, fearing...
MORE STORIES >>
Panthers News

Delivered to your inbox

You'll also receive Yardbarker's daily Top 10, featuring the best sports stories from around the web. Customize your newsletter to get articles on your favorite sports and teams. And the best part? It's free!