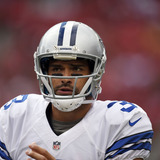 Mark Sanchez visited with the Chicago Bears on Thursday, and apparently things went well.NFL Media's Ian Rapoport says Sanchez is expected to sign with the Bears. The Bears recently signed Mike Glennon to be their starting quarterback, so Sanchez would be competing to be his backup. The team also has Connor Shaw and David Fales on their roster at quarterback.Sanchez has been a backup...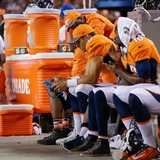 It was a matter of minutes between finding out Mark Sanchez had been released and learning that he was headed for the Dallas Cowboys. In fact, according to the NFL, it may have gone down entirely too quickly. According to Mike Florio of ProFootballTalk, the Cowboys could be in trouble if found to have signed Sanchez before the league issued an official daily transaction report....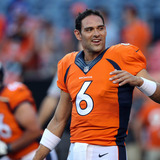 The Denver Broncos are reportedly working behind the scenes to trade quarterback Mark Sanchez after naming Trevor Siemian the starter for Week 1. Just heard Broncos are trying to trade Mark Sanchez. He could be cut today or tomorrow. — ProFootballTalk (@ProFootballTalk) August 29, 2016 It was previously reported that Sanchez could be a salary-cap cut if he didn't win the starting...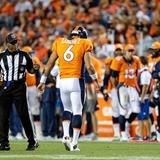 Denver Broncos quarterback Mark Sanchez kept true to form on Saturday night, fumbling away a golden opportunity to lay his claim on the Denver Broncos' starting quarterback job. After Trevor Siemian threw an ill-advised pick-six to San Francisco 49ers safety Eric Reid (watch here), Sanchez had a chance to secure the job. Unfortunately, he couldn't secure the football (twice), and...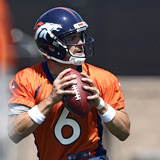 The Denver Broncos made the unique move of designating Mark Sanchez and Trevor Siemian as "co-starters" on the team's initial depth chart of training camp. An informal poll of unidentified Broncos players, however, indicates most of them believe it will be Sanchez starting under center in the team's preseason opener Thursday against the Chicago Bears. Denver7's Troy Renck was...
At least two Denver Broncos players say they know exactly who will be the team's starting quarterback come Week 1 of the 2016 regular season. Mark Sanchez. According to Mike Freeman of Bleacher Report, there's "no mystery" about Denver's starter at quarterback. The two players are convinced it'll be Sanchez, not Trevor Siemian or rookie first-round pick Paxton Lynch. The report...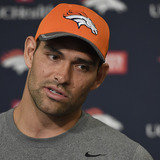 One day after a huge story broke about how Ash Narayan scammed Mark Sanchez and others out of $30 million, the NFLPA has suspended him indefinitely. As detailed by Vice.com, Narayan was approved to advise NFL players by the NFLPA and was still listed as of Tuesday as an NFLPA-approved advisor. No longer. Financial advisor Ash Narayan suspended indefinitely by NFLPA. Allegedly...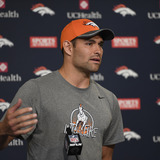 Denver Broncos quarterback Mark Sanchez is expected to miss the start of organized team activities after he suffered an injury while working out. Mike Klis of 9 News in Denver reports that Sanchez tore a ligament in his non-throwing hand last Thursday while exercising in the weight room. He was able to complete the workout but later went to see the training staff when the thumb...
Mark Sanchez is an eternal optimist. Not even the Denver Broncos trading up for a quarterback has made him flinch. Sanchez was Denver's quarterback heading into the NFL Draft, but the Broncos traded up to select Paxton Lynch. Sanchez doesn't see that as a threat, though. He sees it as evidence that the Broncos are ready to hitch their wagon to him. "Absolutely, that's the message...
Mark Sanchez has reportedly been traded to the Denver Broncos for a conditional pick, per Mike Klis of 9News in Denver. Broncos acquire Mark Sanchez from Philly for conditional draft pick. Process has begun #9news #9sports — Mike Klis (@MikeKlis) March 11, 2016 Behind the scenes, the venerable John Elway worked out a deal for Sanchez, who was going to be playing third fiddle...
MORE STORIES >>
Bears News

Delivered to your inbox

You'll also receive Yardbarker's daily Top 10, featuring the best sports stories from around the web. Customize your newsletter to get articles on your favorite sports and teams. And the best part? It's free!