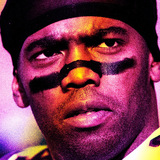 On Monday night, the Minnesota Vikings inducted Randy Moss into their Ring of Honor. They didn't retire his #84 just yet, but they did let him blow the Gjallarhorn before the start of the game. Plus, Stefon Diggs wore cleats that had Moss's infamous mooning at Green Bay, so that seemed like more than a perfectly fine reason to talk about Moss here today. The folks over at SB Nation...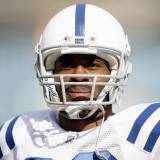 Marvin Harrison enters the Hall of Fame this weekend eight years after retiring from the Indianapolis Colts, the only team he ever played for during his 13 pro seasons, where he quietly dominated as a speedy receiver in a time of big wideouts. Only Jerry Rice and Tony Gonzalez caught more passes in NFL history, and no one has caught more passes in a season than Harrison's 143 receptions...
The case can be made that Marvin Harrison and Terrell Owens are two of the finest wide receivers of their era. But when the Hall of Fame voting results were announced earlier this year, only one of them made the cut, and it wasn't T.O. Owens arguably merits inclusion in the Pro Football Hall of Fame — after all, he's second all-time in receiving yards and third all- time in receiving...
Marvin Harrison was known for being a somewhat quiet and reserved player during his 13-year NFL career, but there is at least one thing that seems to make his blood boil — Terrell Owens whining about the Hall of Fame. In an interview with Talk of Fame Network this week, Harrison was asked how he felt about Owens' reaction to not making the Hall in his first year of eligibility....
In case you didn't know, Peyton Manning is the NFL's new leader in career touchdown passes. And, while his receivers were playing keep-away with the milestone ball Sunday night, the NFL wasted no time in letting everyone know who was on the the receiving end of all 509 scores. The league posted this tweet and graphic:This is what 509 TDs look like. #Peyton509 pic.twitter.com/jBoeRAWBW2...
Former Indianapolis Colts wide receiver Marvin Harrison has had some serious off-field issues since he was catching passes from Peyton Manning what seems like a lifetime ago.  The retired receiver was cruising in his truck early this morning when a man came running on to the street asking for help. What ensued is something Hollywood movies are made of. Marvin Harrison seems to exists...
MORE STORIES >>
NFL News

Delivered to your inbox

You'll also receive Yardbarker's daily Top 10, featuring the best sports stories from around the web. Customize your newsletter to get articles on your favorite sports and teams. And the best part? It's free!