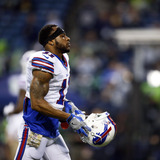 At the mere age of 28 years old, wide receiver Percy Harvin has decided to call it quits (for good this time), according to ESPN's Jeremy Fowler. Harvin has had quite the colorful career in the NFL, having played for four teams over the past eight years.His best years came during his first four seasons as a member of the Minnesota Vikings, the team that chose him 22nd overall in...
Percy Harvin's season is over before it really began. The Bills placed Harvin on the non-football injury list, which will end his season. He has been bothered by migraines, which plagued him throughout his career. Harvin retired earlier this year after spending the end of last season on IR with a knee injury, but the Bills took a chance at getting a spark from him by signing the...
Percy Harvin surprised the NFL world on Tuesday by coming out of retirement and returning to the Buffalo Bills. Harvin, who called it quits after a disappointing 2015 campaign, says the time off has helped him feel rejuvenated, in mind, body and spirit. Harvin said this week that trying to play through injuries last season was a frustrating experience. The 28-year-old all-purpose...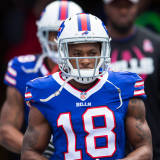 Once one of the most-promising young receivers in the NFL, it now looks like Percy Harvin will announce his retirement at the incredibly young age of 27. According to Pro Football Talk's Mike Florio, Harvin informed those close to him as well as members of the Buffalo Bills of his intention to call it a career. Harvin, a first-round pick of the Minnesota Vikings back in 2009, jumped...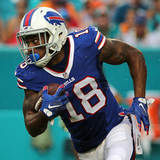 It was reported by Pro Football Talk last month that free-agent wide receiver Percy Harvin would "definitely" play in 2016 after a brief stint with the Buffalo Bills last season. But a week later, the 27-year-old has apparently changed his mind about playing, even though teams are interested. Though teams have inquired the last few weeks, sources tell me it's "unlikely" Percy...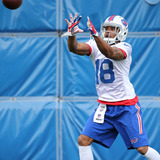 The Buffalo Bills have begun the process of figuring out what needs they have to address during the offseason, and the uncertain future of Percy Harvin is making life more difficult for the team. Harvin battled hip and knee injuries throughout the season that reportedly had him contemplating retirement at one point. On Tuesday, Bills director of player personnel Jim Monos told WGR...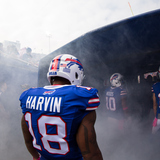 If I had to sum up Percy Harvin's NFL career (so far), I genuinely do not know if I could. So I'll just settle on two for now: interesting, and unfortunate. Yet with all the promise and talent, it could have (and arguably should have) been so much more. Of course, I'm talking like his career is over. It isn't; not yet, anyway. But when Harvin, 27, was placed on season-ending IR...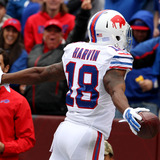 Percy Harvin has been battling hip and knee injuries, but the Buffalo Bills claim neither health issue is the reason the 27-year-old wide receiver is choosing not to travel to London with the team this week. The Bills have ruled Harvin out for Sunday's game but labeled his absence "non-injury related." Amid reports that Harvin could be considering retirement because of injury frustration...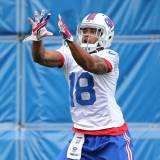 By Rachel Wold Buffalo Bills wide receiver Percy Harvin seems to finally have found his niche in Western New York, but only after a tumultuous season and-a-half stint with the Seattle Seahawks. Seattle ultimately resulted traded him to the New York Jets midway through the 2014 season, then Harvin signed with Buffalo this offseason. Harvin spoke up about his trying time in Seattle...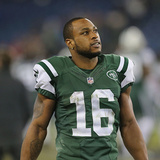 By Vincent Frank In a move that many expected, the New York Jets are reportedly on the verge of releasing troubled wide receiver Percy Harvin. This comes on the heels of the team acquiring Brandon Marshall from the Chicago Bears earlier on Friday. The Jets are expected to release WR Percy Harvin. Harvin will be 27 years old in May. pic.twitter.com/dJbDS4V9kj — NFL on ESPN...
MORE STORIES >>
Broncos News

Delivered to your inbox

You'll also receive Yardbarker's daily Top 10, featuring the best sports stories from around the web. Customize your newsletter to get articles on your favorite sports and teams. And the best part? It's free!