When the Miami Dolphins claimed defensive end Quinton Coples off of waivers, the general consensus was that he was merely a rental for the remainder of the 2015 season. But now it seems that the former first-round draft pick is actually in the plans for next season as well.Though he played limited snaps against his former team, Coples apparently caught the attention of the Dolphins...
It isn't easy making transitions in the NFL, you train your whole college career to play a certain position in a specific scheme, and then the team that drafts you tries to turn you into something else, essentially forcing you to start from scratch on a whole new level of intensity unlike anything you'd ever experienced. That's what happened to Quinton Coples.A standout pass-rushing...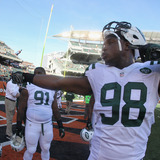 The New York Jets waived 2012 first-round pick Quinton Coples on Monday.Coples, who had been struggling to adjust to first-year head coach Todd Bowles' defensive scheme, played a mere five snaps on Sunday in the Jets' 24-17 loss to the Houston Texans. Coples had just eight tackles in 10 games this season.The outside linebacker had a career-high 6.5 sacks last season, but the former...
What do we know about New York Jets pass rusher Quinton Coples? The man is a physical specimen; a 6'6″ – 290 pound behemoth that can run like a tight end (4.78 second 40). His rare blend of size, speed, and power provide versatility and the potential to be a match up nightmare. All positive and all tantalizing. It is what we do not know about Coples that is concerning. We have yet...
There have been a lot of questions and concerns surrounding New York Jets OLB/DE Quinton Coples this season, as expectations for a breakout second year have been tempered following a slow start for the former first round pick out of UNC. The last time we saw the "real" Quinton Coples, he was manhandling Jaguars quarterback Blaine Gabbert in the preseason, forcing a fumble as he threw...
Here at Turn On The Jets, we decided to take a page out of Robert Mays book over at Grantland (a polite way of saying rip his article idea off) by counting down the 115 days until the New York Jets kick off, with a daily reason to get excited about their return. Mays has the whole NFL to work with, we only have the Goddamn Jets…now there is a challenge, step your game up Mays! We...
Rookie defensive end Quinton Coples has divided opinion amongst Jets fans ever since it was announced at Radio City last spring that he'd been selected as their first round draft choice. The former North Carolina man arrived in New Jersey with several question marks against his name and, if popular opinion is to be believed, many of those question marks will follow him into his sophomore...
MORE STORIES >>
Rams News

Delivered to your inbox

You'll also receive Yardbarker's daily Top 10, featuring the best sports stories from around the web. Customize your newsletter to get articles on your favorite sports and teams. And the best part? It's free!