We've updated our Privacy Policy.
By continuing to use this site, you are agreeing to the new Privacy Policy.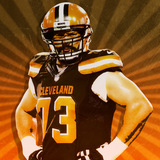 It's the end of an era in Cleveland, as perennial All-Pro left tackle Joe Thomas officially announced that he will be retiring at the age off 33 after spending 11 seasons in the NFL, all of which came with the Browns. And sure, as far as the Browns go, the last decade has been one that the franchise and its fans would soon like to forget. Things started well enough for Thomas in...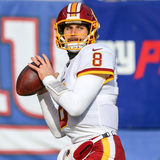 The worst-kept secret in the NFL is finally all the way in the light. After a few days of reports that Kirk Cousins will sign a monster, fully-guaranteed contract with the Minnesota Vikings, the deal is all but in the bag.Vikings general manager Rick Spielman told reporters Wednesday night that Cousins' agent will be flying in on Thursday morning, when the two sides are likely to...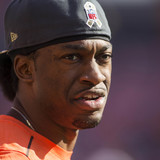 Robert Griffin III and Grete Sadeiko got married this weekend, and based on a picture the former NFL quarterback shared on Instagram it was a fabulous celebration. Both Grete and RG3 are looking incredible here, and the scene behind them is just gorgeous.This is the second marriage for RG3, who was divorced from his first wife and college sweetheart, Rebecca Liddicoat.Though he's...
LIKE WHAT YOU SEE?
GET THE DAILY NEWSLETTER: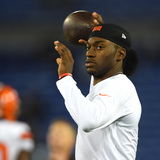 Robert Griffin III got married for the second time on Saturday, and it sounds like the free agent quarterback is pleased with his decision.On Sunday, Griffin shared a photo from his wedding day with Grete Sadeiko, a former Florida State track and field star RG3 had been dating for over a year. As you can see, Griffin went with the blue tuxedo for the big day. The look was rivaled...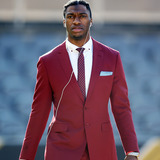 Robert Griffin III will be hearing wedding bells this coming weekend.The free agent quarterback has been posting a series of tweets this month counting down the days until Saturday, March 10. As it turns out, a listing posted on wedding registry website The Knot reveals that Griffin will be getting married to girlfriend Grete Sadeiko on March 10 in Miami Beach, Fla. Interestingly...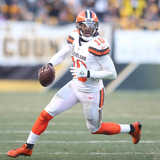 The same team that had negotiating rights to Johnny Manziel recently has now set its sights on another failed NFL quarterback you might recognize. The Hamilton Tiger-Cats added Robert Griffin III to their negotiating list on Tuesday, meaning there's a slight chance he could soon be playing in Canada.Here's a list of all the players that were added to every CFL team's list.This, of...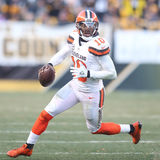 There is not much news surrounding free agent NFL quarterback Robert Griffin III these days. The last time RGIII suited up was with the Cleveland Browns in 2016.That said, he made a little history during his one year gig with Cleveland. RGIII was careful to point this out when a Browns fan attempted to trash him on social media.This handy screenshot was captured by Yahoo Sports and...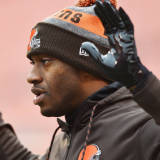 Former Redskins quarterback Robert Griffin III often finds a way to place himself in the center of drama, even involving situations that don't really even pertain to him.It's no secret that RG3 had a bit of an ego problem on and off the field, and rarely held himself accountable for his mistakes, which is something that quarterbacks are expected to do as team leaders. That's why...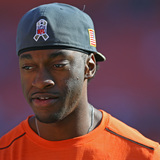 Free agent NFL quarterback Robert Griffin III admitted on Wednesday that he actually turned down offers from both the Arizona Cardinals and Baltimore Ravens during the offseason."I had interest in the offseason, it just wasn't the right fit," Griffin told Michael Smith and Jemele Hill on SC 6 (h/t Arizona Sports 98.7 FM)."Griffin elaborated specifically as to why the Cardinals were...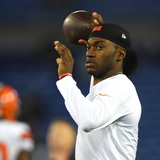 It's unclear if former quarterback Robert Griffin III will ever play in the NFL again.RG3 has been enjoying married life, and didn't seem to be all that interested in working out for an NFL team this summer. There didn't appear to be much interest, but RG3 wasn't adamant about getting back on the field — unlike Johnny Manziel.But he's still staying active, and dominating in the sports...
MORE STORIES >>
NFL News

Delivered to your inbox

You'll also receive Yardbarker's daily Top 10, featuring the best sports stories from around the web. Customize your newsletter to get articles on your favorite sports and teams. And the best part? It's free!