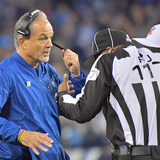 The Indianapolis Colts lost running back Robert Turbin to a season-ending arm injury in Monday's loss to the Tennessee Titans. This leaves veteran Frank Gore and rookie Marlon Mack as the two primary running backs for the remainder of the year.In talking about his running back situation, Colts head coach Chuck Pagano seemingly tried to fill some of his presser with a riddle. Let...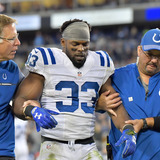 Colts running back Robert Turbin saw his workload increase in the second half of Monday's game against the Titans, for some reason.But his success didn't last all that long, as he was unfortunate to suffer a pretty brutal injury.It happened with under three minutes in the game, when he was met by two Titans defenders, and attempted to finish off the play strong — refusing to go down...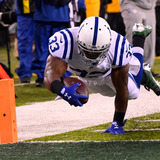 Running back Robert Turbin is reportedly re-upping with the Indianapolis Colts on a two-year contract worth up to $4.1 million. Originally a fourth-round selection out of Utah State by the Seattle Seahawks, Turbin spent his first three seasons in the Pacific Northwest. He then bounced between the Dallas Cowboys and Cleveland Browns in 2015 before landing in Indy last season.As a...
INDIANAPOLIS -- Robert Turbin grew up as a fan of Frank Gore's running style. He's finally going to play alongside his football idol.Less than 24 hours after the free-agent running back signed a one-year contract with the Indianapolis Colts, Turbin acknowledged he's eager for one long wait to end."We've never met, unfortunately, as much as I've wanted to when I was a kid, I never...
The Seattle Seahawks (2-1) visit D.C. to take on the Washington Redskins (1-3) on Monday Night Football. Kickoff at FedEx Field is at 7:30 p.m. on ESPN. The Redskins have looked inconsistent this season. The offense under Kirk Cousins kept pace with the Eagles for much of that game, but then the next week they got steamrolled by the Giants. The game's final score largely depends...
The Seattle Seahawks front office has to make tough cuts as the NFL regular season comes near. The Seahawks have a tremendous amount of talent at every position so any player who gets cut is sure to be picked up by another team. With most injuries aside, below is my version of Seattle's 53-man roster. Offense (25) Quarterbacks (2) Marshawn Lynch Robert Turbin Christine Michael Once...
The Seahawks are very impressed with 4th round pick Robert Turbin, as they should be. After all, he is 5th in preseason rushing yards, with 151 yards and a touchdown on 34 carries, including 93 yards on 14 carries against the Chiefs last week. In an interview with the Seattle Times, Head Coach Pete Carroll said about Turbin, "He's a really good football player. I'm so happy with...
The Seahawks spent a 4th round pick on Robert Turbin, despite giving Marshawn Lynch a great contract this offseason. Turbin provided much needed depth behind the talented, but injury prone Lynch. However, he could provide more than just that. Today, Carroll suggested that Turbin could be their 3rd down back, praising his pass catching abilities and saying that he has all the tools...
MORE STORIES >>
Colts News

Delivered to your inbox

You'll also receive Yardbarker's daily Top 10, featuring the best sports stories from around the web. Customize your newsletter to get articles on your favorite sports and teams. And the best part? It's free!