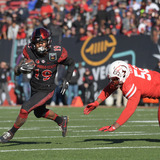 San Diego State running back Donnel Pumphrey has fought adversity every step of his college career and capped off an illustrious season with an NCAA record. With a 15-yard run in the fourth quarter, the 5-foot-9, 180-pounder became the all-time leading rusher in the history of college football. "A historic moment in college football history." We couldn't be more proud of one...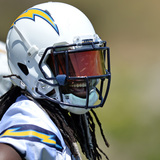 44 running backs have been selected in the first round of the NFL Draft since 2000. How many can you name?
Despite graduating as the NCAA's all-time leading rusher, Ron Dayne still had to wait his turn to enter the College Football Hall of Fame. He was the first player to top 7,000 yards rushing and finished with 7,125 career yards on the ground. That's over four miles worth of turf that Ron Dayne chewed up in his tenure as the Wisconsin Badgers' tailback from 1995 to 1999. He graduated...
"You're only as good as the players around you," those words are often spoken in regards to team sports and team efforts and after finding out he was elected to the College Football Hall of Fame those were the first thoughts of honoree Ron Dayne.  "I don't know. I can't stop smiling," said Dayne when asked about the award on Tuesday. "I'm excited and happy, especially for me...
Heisman Trophy winners Danny Wuerffel of Florida and Ron Dayne of Wisconsin, along with two-time national champion Tommie Frazier of Nebraska, were selected Tuesday for the College Football Hall of Fame. They are part of a class of 12 players and two coaches chosen by the National Football Foundation and revealed Tuesday. The rest of the players to be inducted in December are:...
Ron Dayne, you don't need to say anything more to Badger fans. To most he's the pinnacle of excellence in Wisconsin football. On Tuesday his legacy was cemented for all-time as he was announced as a member of the College Football Hall of Fame.  Dayne, the 1999 Heisman Trophy winner (the 2nd in UW history), is still the all-time leading rusher in FBS history with  6,397 yards...
Ron Dayne - to a Wisconsin fan you don't have to say anything more before memories of back-to-back Rose Bowl championships and many other great memories come flooding back. Most of us can never forget his career, after all he is the all-time rushing leader in FBS history.  But, I'm not telling you anything you don't already know about the living legend. However, his legend could...
MORE STORIES >>
NFL News

Delivered to your inbox

You'll also receive Yardbarker's daily Top 10, featuring the best sports stories from around the web. Customize your newsletter to get articles on your favorite sports and teams. And the best part? It's free!