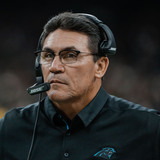 Olympic fever has inspired Carolina Panthers coach Ron Rivera so much, he's taking a curling lesson.Rivera hit up the Charlotte Curling Club on Friday for a formal lesson in the sport, and, well, it's safe to say his form is a work in progress. Look, he's getting a little better with each video. Nobody becomes a star overnight. Maybe he'd be even better if he got his hands on an...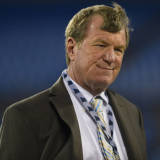 Though interim general manager Marty Hurney is the frontrunner to be named the Panthers new GM, the team has also scheduled interviews with a pair of external candidates for next week, the Charlotte Observer's Joseph Person writes. Those two candidates are Texans assistant general manager Jimmy Raye III and Bills assistant college scouting director Lake Dawson. Both Raye and Dawson...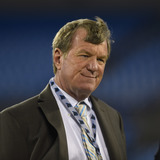 The Panthers will be interviewing a pair of general manager candidates this week. According to ESPN.com's Adam Schefter (via Twitter), the organization will talk to interim general manager Marty Hurney and Texans vice president of player personnel Jimmy Raye III about the full-time gig. Hurney, who served as the Panthers' GM for more than a decade during the early 2000s, reclaimed...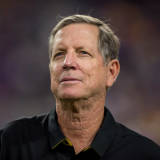 The Carolina Panthers shocked a lot of people Tuesday by firing offensive coordinator Mike Shula, along with quarterback coach Ken Dorsey. However, the team didn't make those moves without having a plan in mind, reports Ian Rapoport of NFL Media, who says Norv Turner could be set to fill the void. While some might look at Norv Turner's penchant for drawing up passing plays that require...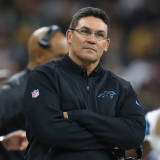 The Carolina Panthers lost a tough game to the New Orleans Saints on Sunday, and head coach Ron Rivera can't help but wonder if the officiating had something to do with that.In his final press conference of the season on Monday, Rivera spoke about a critical call and a questionable decision to not review a play that could have helped Carolina. The first issue arose when the Panthers...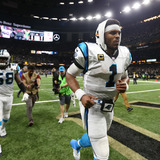 It appears the referees could not come to an agreement on a controversial call late in Sunday's NFC wild-card game.With less than a minute to play in the fourth quarter of the game between the Saints and Panthers, Cam Newton dropped back to pass on 2nd and 10. Unable to find a receiver, Newton threw the ball away. However, he was ruled to still be in the pocket and intentional grounding...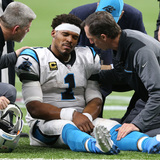 Carolina Panthers quarterback Cam Newton took a huge hit late in his team's eventual playoff loss to the New Orleans Saints on Sunday evening.Here, we can see Newton fall to the ground following the hit by Saints defensive lineman David Onyemata. It's pretty obvious something was amiss with Newton, who would ultimately spend about 90 seconds in the medical tent on the sideline being...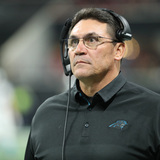 The Panthers put forth a valiant effort in Sunday's NFC Wild Card game against the Saints, but came up just short. Carolina outgained New Orleans in total yards, 413-410, and had a chance to take the lead and possibly win the game on its final drive, but an intentional grounding call put a damper on their chances.Carolina had a first-and-10 situation from New Orleans' 21-yard line...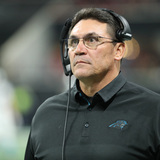 The Carolina Panthers are keeping head coach Ron Rivera for the foreseeable future.According to reports on Saturday, the Panthers have finalized a two-year extension with Rivera for roughly $15.5 million. Rivera is 64-47-1 over his seven seasons with the franchise. The 2017 season marks their fourth playoff appearance under Rivera during that time.The extension would keep Rivera...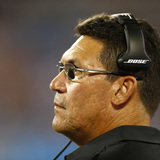 When the Carolina Panthers open the regular season against the San Francisco 49ers, Ron Rivera expects that quarterback Cam Newton will be ready to go."I think he's ready," Rivera said, via David Newton, ESPN. "You wish he'd had a few more snaps and played a little bit earlier in the preseason so we'd have more to go on. But what we saw, we liked. … We liked how everything seems...
MORE STORIES >>
Panthers News

Delivered to your inbox

You'll also receive Yardbarker's daily Top 10, featuring the best sports stories from around the web. Customize your newsletter to get articles on your favorite sports and teams. And the best part? It's free!