We've updated our Privacy Policy.
By continuing to use this site, you are agreeing to the new Privacy Policy.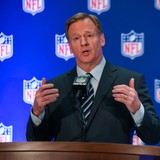 Most of the reports we have heard about last week's meetings between NFL players, executives and team owners regarding national anthem protests have been positive, but apparently there has not been as much progress made as initially believed.Los Angeles Chargers offensive lineman Russell Okung, one of several players who attended the players-owners meetings in New York last week...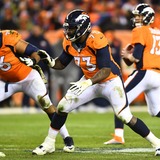 Russell Okung is headed to Los Angeles to protect Philip Rivers. According to Josina Anderson of ESPN, he's signing a four-year deal worth up to $53 million with $25 million guaranteed to play for the Los Angeles Chargers.According to Ian Rapoport of NFL Media, $13.5 million is fully guaranteed, meaning the rest is likely guaranteed for injury only.Okung was one of the top offensive...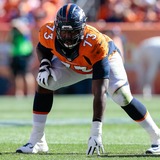 When Russell Okung signed his five-year, $53 million contract with the Denver Broncos last year, it was understood that it was essentially nothing more than a one-year contract.There were absolutely no  no real guarantees in the deal, so it came as no surprise when the Broncos declined his 2017 option before $20.5 million in guaranteed money actually did kick into effect.However...
LIKE WHAT YOU SEE?
GET THE DAILY NEWSLETTER: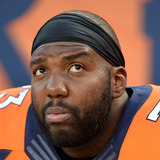 Russell Okung was taken to the a hospital for further examination after experiencing concussion symptoms following the Chargers-Broncos game on Thursday. The Denver offensive lineman was placed on a stretcher with an IV and carted into an ambulance after the game. News 9 in Denver's Mike Klis added that overheating may have been part of the problem. Russell Okung went to hospital...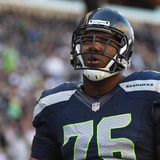 The Denver Broncos have protected themselves with the unique structuring of new left tackle Russell Okung's contract. According to Adam Schefter of ESPN, Okung's five-year deal in Denver includes no guaranteed money. Former Seahawks' OT Russell Okung's 5-year contract with the Denver Broncos contains not one dollar of guaranteed money. — Adam Schefter (@AdamSchefter) March 18...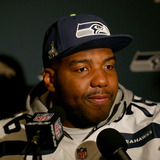 The Denver Broncos have yet to settle on a quarterback for 2016, but whoever it is, they're making sure he'll have ample protection. The Broncos have reportedly agreed to terms with left tackle Russell Okung on a five year deal worth about $10.6 million annually, according to ESPN's Josina Anderson. Sources tell me that OT Russell Okung is close to finalizing a 5-year deal with...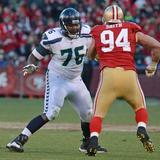 Seattle Seahawks OT Russell Okung looked to be quite frustrated during an exchange with a trainer in Sunday's game against the 49ers. When QB Russell Wilson threw an interception on the final play of the first half, Okung appeared to hurt himself when Eric Reid attempted to turn the return into a possible score. He then came off the field and had a heated exchange with a trainer...
The Seattle Seahawks (9-1) host the Minnesota Vikings (2-7) at CenturyLink Field on Sunday. The game will be televised at 4:25 ET on FOX. This game ought not to be a close one, given Seattle's complete performance against the Falcons and the impending return of several key players. Russell Okung, Max Unger, and Breno Giacomini are all listed as probable to start Sunday. But what...
The 2013 season has been a solid success story thus far for the Seattle Seahawks. With the best record in the NFC, Seattle is poised to reach the playoffs yet again and possibly make a deeper playoff run than last season. The past few games have given Seattle chances to exhibit resiliency, a necessary quality for a contending team, but questions still remain as to whether this team...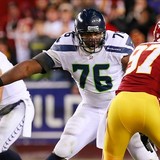 Bull run Yes the title of this piece is what most Seahawks fans are thinking, but the ultimate question is, what in the Hell was Pete Schaffer (Okung's agent) thinking? What kind of professional allows his player to risk injury that could at best maim him, and at worst end his career? That is who we should really be mad at here folks. Okung has said that he wants to get the fullest...
MORE STORIES >>
Chargers News

Delivered to your inbox

You'll also receive Yardbarker's daily Top 10, featuring the best sports stories from around the web. Customize your newsletter to get articles on your favorite sports and teams. And the best part? It's free!