NT Shaun Cody amps up the antics in this week's episode of On the Nose. If you have never watched an episode of this web sensation you must do so immediately! Shaun is hilarious and the things that he does on the show will leave you laughing so hard you side will hurt. Last week Shaun...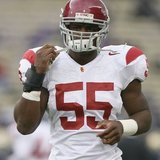 As promised I am back in the Yard to fill you in on my trip to Detroit. I flew into Detroit right after my New England visit. I got in Tuesday night and spent Wednesday at the Lions facility. I felt at home with all the Trojans there - I met with Joe Barry and Rod Marinelli and Shaun Cody, one of my former teammates. They gave me a tour of the facility and I ran into Buster Davis...
MORE STORIES >>
Lions News

Delivered to your inbox

You'll also receive Yardbarker's daily Top 10, featuring the best sports stories from around the web. Customize your newsletter to get articles on your favorite sports and teams. And the best part? It's free!