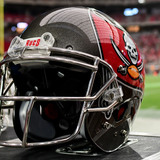 Simeon Rice last played a down in the NFL during the George W. Bush Administration. The year was 2007, and Carrie Underwood was just named best new artist at the Grammy Awards.Yeah, that was a long time ago.Now, at 43 years old, Rice wants to make a comeback. Not only that, he wants to return to the Buccaneers and believes he has 12 sacks in him. "They have no pass rush," Rice said...
Former NFL defensive end Simeon Rice stated his Hall of Fame case Monday night, in a colorful radio segment that many have been talking about today. Rice appeared on "The DA Show" Monday night and spoke with Andrew Fillipponi. The CBS Sports Radio host was clearly trying to get a reaction out of Rice from the get-go. It's one thing to state facts, but it's another to stir the pot...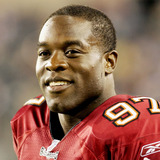 If you thought Terrell Owens was furious about missing the Hall of Fame the past two years, just wait until you hear how former NFL defensive end Simeon Rice feels about never having been named a finalist.Rice got into it with Andrew Fillipponi, who was filling in as host of "The DA Show," in an interview on CBS Sports Radio Monday night. What began as Rice stating his case for the...
I came across some interesting news today about former NFL Pro Bowler and Super Bowl Champion Simeon Rice. Here are the details from IndieWire: Sycamore Entertainment Group, Inc., today announced it has signed a deal with Dreamline Pictures for the North American distribution rights to the suspense thriller "Unsullied," the first feature film written and directed by former NFL star...
Earlier today, former Tampa Bay Buccaneers defensive end Simeon Rice called his former coach, Jon Gruden, a scumbag and accused him of creating a series of player debacles while Gruden was the head coach of Tampa Bay.  With all of the rumors that were swirling recently about the possibility of Gruden-to-South-Bend, you know Charlie Weis must be smiling. 
MORE STORIES >>
NFL News

Delivered to your inbox

You'll also receive Yardbarker's daily Top 10, featuring the best sports stories from around the web. Customize your newsletter to get articles on your favorite sports and teams. And the best part? It's free!