We've updated our Privacy Policy.
By continuing to use this site, you are agreeing to the new Privacy Policy.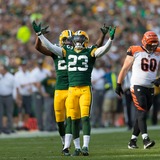 Packers cornerback Damarious Randall came up with a game-changing play when it mattered most in Sunday's game against the Cowboys, and he made sure to let his opposition know about it.It happened in the fourth quarter, when a Dak Prescott pass deflected off Terrance Williams' fingertips, right into Randall's hands. He then returned it 20 yards for the go-ahead touchdown.Prescott...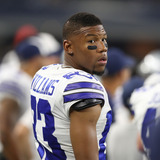 The Dallas Cowboys, up by two points in the fourth quarter, just needed to try and work the clock while moving the chains to hopefully add to their score Sunday against the Green Bay Packers. Dak Prescott, who has been darn good in this one, put the ball right on Terrance Williams' chest. Unfortunately, the ball bounced right off Williams and into the waiting arms of Damarious Randall...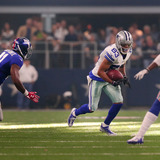 Terrence Williams may be about to find out firing back at critical Dallas Cowboys fans only makes an already bad situation worse. Why? Because after days of hearing his team's fans gripe over his critical mistake during Sunday's 20-19 loss to the Giants, Williams has reversed course in how he discusses it. The Cowboys wide receiver initially assumed complete responsibility for...
LIKE WHAT YOU SEE?
GET THE DAILY NEWSLETTER: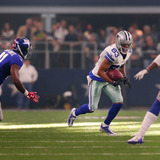 Dallas Cowboys wide receiver Terrance Williams made no excuses after he cost his team a chance at a win against the New York Giants on Sunday. In what was easily the most bone-headed play of Week 1, Williams caught a pass with 12 seconds left in the game and the Cowboys trailing by a point. Knowing Dallas had no timeouts, he still chose to cut back up the field rather than running...
Late in the fourth quarter of Sunday's game between the Cowboys and Giants, a costly mistake by Terrance Williams ending up dooming Dallas. Facing a 3rd-and-10 on their own 46 yard line with 12 seconds left in regulation and the Cowboys down by one point, Dak Prescott passed to a wide open Terrance Williams. Williams made the reception with a clear path to head out of bounds before...
Terrance Williams' bonehead play at the end of the Cowboys-Giants game on Sunday cost his team a shot at winning the game. The Cowboys had the ball for a 3rd-and-10 at their 46 with 12 seconds left when Dak Prescott threw a pass to Williams. Williams made the reception, but instead of going to the sidelines to stop the clock, he plowed forward. Though Williams turned it into a 14...
MORE STORIES >>
Cowboys News

Delivered to your inbox

You'll also receive Yardbarker's daily Top 10, featuring the best sports stories from around the web. Customize your newsletter to get articles on your favorite sports and teams. And the best part? It's free!