We've updated our Privacy Policy.
By continuing to use this site, you are agreeing to the new Privacy Policy.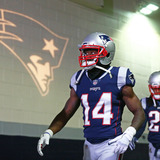 Brandin Cooks had a successful first season in New England, posting 1,082 yards and seven touchdowns for the AFC champions after he was acquired from the Saints last offseason in exchange for a first-round draft pick. However, as Ian Rapoport of NFL.com reports, Cooks was very nearly traded to the Eagles, the team he will be playing against in tonight's Super Bowl. Per Rapoport,...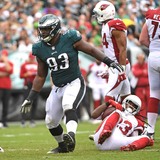 The 2017 Eagles are having a great season. Because of that, they decided to reward one of the players who made their 8-1 start possible.The Eagles have given defensive tackle Timmy Jernigan a four-year contract extension that is worth a whopping $48 million. Jernigan is a big part of why the Eagles have the best rushing defense in the league. Jernigan is signed through 2021, which...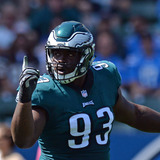 The Philadelphia Eagles continue to lock up core pieces on what has been an improved defense thus far this season. The team has reportedly signed defensive tackle Timmy Jernigan to a four-year extension worth $48 million with $26 million fully guaranteed. Jernigan, 25, was traded from the Baltimore Ravens to Philadelphia back in April. He's responded by anchoring a defensive line...
LIKE WHAT YOU SEE?
GET THE DAILY NEWSLETTER: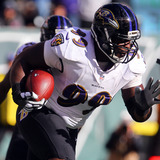 The Baltimore Ravens moved up 25 spots in the third round of this year's draft after trading away a former second-round pick on Tuesday.Defensive lineman Timmy Jernigan, the No. 48 overall pick in the 2014 draft, was traded to Philadelphia along with the No. 99 overall pick in this year's draft in exchange for the No. 74 pick overall, the two teams announced on Twitter.The Ravens...
Baltimore Ravens defensive tackle Timmy Jernigan tried to do a good thing when he told reporters a couple of weeks ago that he would be changing his jersey number to No. 99 to pay tribute to Hall of Fame defensive lineman Warren Sapp. But Sapp, who was upset that Jernigan didn't reach out to him before doing so, posted on Twitter that he wanted to stop Jernigan from changing his...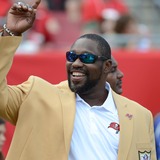 For the first two seasons of his NFL career, Timmy Jernigan has worn uniform No. 97. When he takes the field this fall, the Baltimore Ravens defensive lineman will do so wearing jersey No. 99 to honor a player he admired growing up: Warren Sapp. Unfortunately, it appears Sapp doesn't like the idea. Like many guys his age who play on the defensive line, Jernigan was a fan of Sapp...
It looks like the Ravens and defensive tackle Timmy Jernigan dodged a bullet with his knee injury in the team's third preseason game, but questions remain about his durability. Head coach John Harbaugh said that Jernigan won't need surgery, but also said he couldn't "put any timetables" on Jernigan's return while adding that it's not something that's going to keep him out," according...
Ravens defensive lineman Timmy Jernigan showed enough promise in his rookie season that general manager Ozzie Newsome was comfortable parting with Haloti Ngata. Now primed to start in his second season, Jernigan is expected to take a big step forward in 2015. As long as he can handle the added workload, NFL.com believes Jernigan can be a Pro Bowl player.  Jernigan recorded four sacks...
It was big week for rookies from Florida State in the NFL on Sunday as Kelvin Benjamin went over 100 yards receiving, but the top performer who once donned the garnet and gold came on the defensive side of the ball. The Professio"Nole" Athlete of the Week for the week of December 8th through the 14th goes to Baltimore Ravens' rookie defensive tackle Timmy Jernigan. In a 20-12 victory...
Baltimore Ravens rookie Timmy Jernigan saw snow for the first time earlier this week. Experiencing snow for the first time is an amazing experience, but is it a valid excuse to be late for work? We'll soon find out. According to Jon Meoli of The Baltimore Sun, Jernigan was making a snowman after practice on Wednesday when a team official called him at 3:35 to remind him that the...
MORE STORIES >>
Eagles News

Delivered to your inbox

You'll also receive Yardbarker's daily Top 10, featuring the best sports stories from around the web. Customize your newsletter to get articles on your favorite sports and teams. And the best part? It's free!