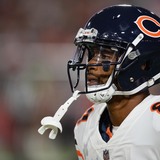 Victor Cruz is know for doing salsa dances in NFL end zones, but as his NFL career is in flux he's found a pretty sweet way to occupy his time. The former New York Giants star was spotted holding hands with model Karrueche Tran, formerly singer Chris Brown's main squeeze. According to TMZ Sports, Cruz and Tran, "were spotted holding hands in Hollywood Friday on their way to lunch...
Wide receiver Victor Cruz's brief time with the Chicago Bears has come to an end. The Bears made the call that many predicted they would earlier this week, releasing Cruz on Friday, per a report. The 30-year-old receiver had hoped to find another team to play with since being released by the New York Giants in free agency. Injuries have caused his game to decline, and he's nowhere...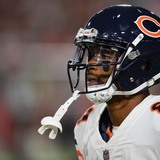 The once promising career of one Victor Cruz may now be on life support. Signed by the Chicago Bears in free agency after being released by the New York Giants, the veteran is unlikely to make the Bears' final 53-man roster."It doesn't appear like Cruz has a very good chance of sticking with the Bears," Brad Biggs of the Chicago Tribune reported Wednesday. "He has played sparingly...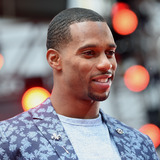 Victor Cruz can earn up to $4 million this year as a member of the Chicago Bears, but he's only guaranteed an eighth of that amount.As Brad Biggs of the Chicago Tribune details, Cruz is only guaranteed $500,000 this season that comes by way of a signing bonus. He has a base salary of $1 million that is not guaranteed, can earn an additional $500,000 in roster bonuses and $2 million...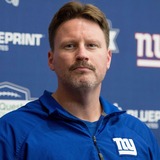 New York Giants head coach Ben McAdoo has disputed Victor Cruz's claims that the team froze him out of the offense in order to justify ultimately cutting him loose this offseason."Do you believe it's accurate? There's no accuracy to it," McAdoo said when asked about the veracity of Cruz's claims, via NJ.com.It's worth noting that given the headaches and drama McAdoo already has encountered...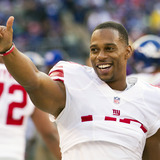 Now that the draft has come and gone, the market for veteran wide receiver Victor Cruz seems to be perking up.Not long after reports surfaced that Cruz will visit with the Jacksonville Jaguars at some point this month, Art Stapleton of the Bergen Record added that the Baltimore Ravens and Cruz have "mutual interest" in one another and could set up a meeting of their own. The Ravens...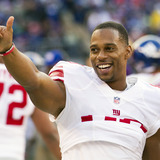 There has seemingly been very little interest in Victor Cruz on the free agent market this offseason, but the veteran wide receiver is not letting that rattle his confidence.In a video he created for Bleacher Report's Uninterrupted on Thursday, Cruz made it very clear that he is not going to be forced into retirement. "I just want to clear up one thing. There's one thing I've been...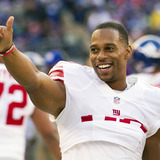 To many New York Giants fans, it probably seems like just yesterday that Victor Cruz was regularly salsa dancing in the end zone and leading his team to a Super Bowl. Unfortunately, those days are long gone.One NFL scout told ESPN's Paul Kuharsky that he believes Cruz has played his last NFL snap. While Cruz appears to have emerged from the 2016 season relatively healthy, his production...
Victor Cruz is set to earn $7.4 million in base salary with the New York Giants next season, and it is very clear that he is no longer the same player he was when he signed the contract he is currently playing under. But as of now, the team has not asked him to take less money.That could be a bad thing.The Giants are almost certain to either ask Cruz to take less money in 2017 or...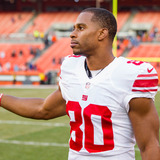 Victor Cruz, Odell Beckham Jr. and other New York Giants players took a trip to Miami ahead of their playoff game against the Green Bay Packers. It's a trip that at least one of them regrets.They partied it up with Justin Bieber and other stars at a club in South Beach until the wee hours of the morning (watch here) before taking the infamous picture on a yacht that turned into a...
MORE STORIES >>
Bears News

Delivered to your inbox

You'll also receive Yardbarker's daily Top 10, featuring the best sports stories from around the web. Customize your newsletter to get articles on your favorite sports and teams. And the best part? It's free!