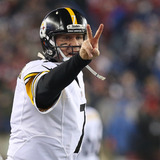 Apparently the retirement rumors surrounding Pittsburgh Steelers quarterback Ben Roethlisberger this offseason had some serious legs to them.Big Ben is 35 years old and has dealt with injuries throughout his career, but it didn't seem plausible he'd hang up the cleats just yet after another productive year. Rumors persisted, though, and former Pittsburgh offensive lineman Willie...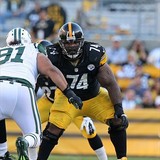 With Matt Slauson recently signing with the Chicago Bears and the impending departure of Brandon Moore, it is becoming more and more likely that New York Jets free agent signing Willie Colon will be a starter at one of the Guard spots. Colon was signed to a one year, $1.2 million dollar deal, the right price for a guy who has played only 12 games in the past 3 years. The Steelers...
The long awaited deed is finally done as it is now being reported that the Pittsburgh Steelers have released guard Willie Colon with a post June 1st designation. Colon was originally drafted by the Steelers in the fourth round of the 2006 NFL Draft out of Hofstra University and originally played right tackle until he was moved to left guard last off-season. Colon was a picture...
While we still don't know the exact value of three-year contract signed by Pittsburgh Steelers unrestricted guard Ramon Foster, it doesn't really matter as far as the future of guard Willie Colon with the team goes unless he takes a cut in pay. Colon, as I pointed out a few days ago, has been in limbo, and now that limbo has an arrow pointing to the unemployment line if he does...
It appears as if the Pittsburgh Steelers are not planning to do anything with the contract of guard Willie Colon. Ed Bouchette of the Pittsburgh Post-Gazette  reported on Wednesday that Joe Linta, Colon's agent, says the Steelers have not asked for a reduction of the $5.5 million base salary that his client is scheduled to earn in 2013. The only question that remains now, is whether...
Immediately after the news started circulating around that Pittsburgh Steelers guard Willie Colon might be done for the season with a knee injury, I received several questions via Twitter about how much it would cost to release Colon after the season. Colon signed a five-year, $29 million contract prior to the 2011 season and he structured that contract to this past offseason...
The Steelers have finally moved Willie Colon to guard. After seven years in the league, i think Willie has been expecting this move for a while as it seems Willie and i have talked about a possible move to guard ever since he came to the Burgh. I chatted up the "320lbs of educated Big Nasty" when he came to the Light of Life "Walk For the Homeless." He was very enthusiastic about...
MORE STORIES >>
Steelers News

Delivered to your inbox

You'll also receive Yardbarker's daily Top 10, featuring the best sports stories from around the web. Customize your newsletter to get articles on your favorite sports and teams. And the best part? It's free!