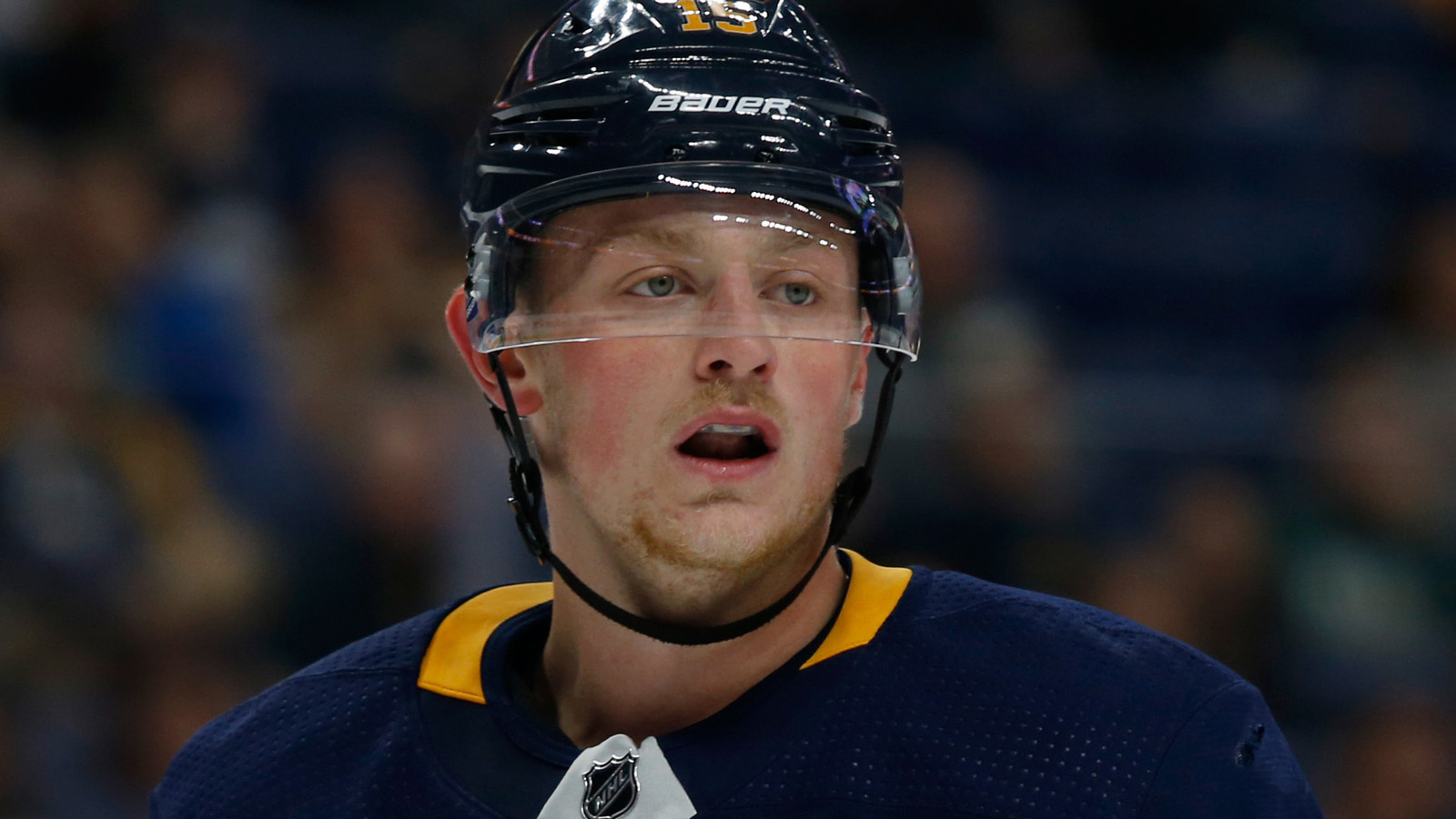 The Sabres locked up young star Jack Eichel with an eight-year contract.
Timothy T. Ludwig-USA TODAY Sports
On Tuesday, the Buffalo Sabres signed their biggest star, Jack Eichel, to an eight-year, $80 million contract. The new contract carries an average annual value and cap hit of $10 million per year. Eichel will now be tied for the fifth highest cap hit in the league next season with Anze Kopitar. He remains behind Connor McDavid, Carey Price, Jonathan Toews and Patrick Kane. In addition, the contract carries a no-movement clause in years five through eight.
From outside Buffalo, this contract will look interesting. After all, Eichel has only played less than two full seasons in the NHL, and he's only 20. When it comes to what he has proved so far, some fans may not believe he has earned $10 million per year. By the end of next season, these fans will have been proven wrong.
Eichel is already Buffalo's best player. Last year he played only 61 games and still led the Sabres in points with 57. His points-per-game rate was good for 11th in the league among those who played at least 50 games. This is despite having a lower shooting percentage than any other forward in the top 15 of ppg. With a player who has shown as high of skill as Eichel has in both the NHL and in college, his shooting percentage should come up to around 11–12 percent, possibly more.
Assuming he plays close to a full season with the Sabres this season, Eichel will once again lead the team in points and come close to leading the league in points. He showed during his shortened last season that he has the ability to control an entire game that few other players have, especially at his age.
Once again, despite his shortened season, he had the second highest point shares on his team according to hockey-reference.com. The point share measures how many points a player is responsible for in the standings for his team. For example, Eichel provided the Sabres with a point share of 6.6, which means he was directly responsible for about 3.5 wins. He was second in skaters to defenseman Rasmus Ristolainen, who provided 7.6 point shares, or about four wins.
Eichel will always be compared to the one player selected ahead of him in the 2015 entry draft: Connor McDavid. His contract is no different. Given they both extended their contracts about the same time, and they both took eight-year extensions, it is only natural to compare the two. McDavid's contract will be the biggest in the NHL when it comes into effect next season. His cap hit clocks in at $12.5 million per year.
This puts Eichel right in between McDavid and Leon Draisaitl, another young player who signed an eight-year extension this summer. That positioning makes sense, because although Eichel is not on the same level as McDavid, he is much more valuable to the Sabres than Draisaitl is to the Oilers. Despite the other great players on Buffalo like Ryan O'Reilly, Ristolainen and Kyle Okposo, without Eichel the Sabres are once again at the bottom of the barrel. This team needs Eichel. Luckily, the Sabres just locked him on for eight more years.
MORE FROM YARDBARKER:
QUIZ: Name the 10 Hall of Fame members who played for the Buffalo Sabres
10 players in Buffalo Sabres franchise history are members of the NHL Hall of Fame. How many of them can you name?
MORE FROM YARDBARKER
Sabres News

Delivered to your inbox

You'll also receive Yardbarker's daily Top 10, featuring the best sports stories from around the web. Customize your newsletter to get articles on your favorite sports and teams. And the best part? It's free!