It's the worst time of year for Sabres fans isn't it? The team is once again miles away from anything resembling a playoff conversation and fans don't even have the trade deadline to look forward to anymore. Despite what continues to be a bleak situation in Western New York, there are several interesting storylines to follow as the 2017-18 season comes to a merciful conclusion. Let...
Sam Reinhart scored a goal and assisted on another as the Buffalo Sabres beat the Toronto Maple Leafs 5-3. ---------------------------------------------- Subscribe to Sportsnet on YouTube - http://sprtsnt.ca/2paAT2L Visit Sportsnet.ca for more sports news and highlights - http://www.sportsnet.ca Follow Sportsnet on Facebook - http://sprtsnt.ca/YTFB Follow Sportsnet on Twitter...
After a very slow start to the season Sam Reinhart is becoming the player that we expected to see. It really has been a tale of two seasons for Buffalo Sabres forward Sam Reinhart. His season got off to a very slow start. Rumors even started to circulate that the former second overall pick was available in the trade market. When the calendar flipped to 2018. The season for Reinhart...
Even after the Islanders rallied from a 3-0 deficit to tie the game with 5:27 left in regulation, it wasn't enough for them to leave Buffalo with even a point. A goal by Sam Reinhart with 4:14 left in the game broke the 3-3 tied and led to the Buffalo Sabres 4-3 win on Thursday night. It was the Islanders fourth loss in their last five games as they missed a golden opportunity to...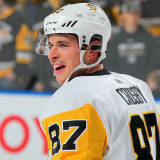 The Pittsburgh Penguins already acquired an Atlantic player when they acquired center Riley Sheahan from the Detroit Red Wings earlier this year. Could GM Jim Rutherford double-dip into the division for yet another center? There are plenty of options available.As everyone knew they would, the Penguins have rebounded from some serious early season struggles and are back in the playoff...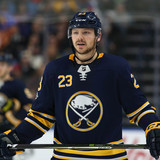 It's clear that Evander Kane will be traded by the Buffalo Sabres before the Feb. 26 deadline, but where exactly he will end up and how much he will cost are still very much up in the air. Today, Darren Dreger of TSN tweeted that interest is "heating up" but that the team still could wait, while Pierre LeBrun of The Athletic chimed in calling it a "good ol' poker game" and explaining...
Sam Reinhart has had a rough start to the 2017/18 season. Through the first five games of the season, Reinhart had zero goals and zero assists for a total of zero points, along with a plus/minus of minus eight. In the Sabres' last two games he has scored two goals, but he still has not performed to pre-season expectations. Because of his slow start and his demoted place in the lineup...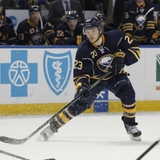 BUFFALO, N.Y. (AP) Sam Reinhart tied the game and then set up Jack Eichel's go-ahead goal 4:07 into the third period Saturday, rallying the Buffalo Sabres to a 3-2 victory over the Winnipeg Jets. The loss mathematically eliminated the Jets from playoff contention in a matchup of teams out of the postseason picture. Buffalo won consecutive games for the first time since winning...
Sam Reinhart had an early audition with the Sabres at the beginning of the season, but after he played in his allotted number of games, Reinhart was sent back to play another year of junior hockey. Reinhart, who spent most of his time with Buffalo on the bottom two lines playing against players who were much bigger and stronger than him, was charged with adding more bulk and refining...
  Center Sam Reinhart, the Buffalo Sabres' top prospect, will finish his season in the minors. The Sabres assigned the No. 2 draft pick to their American Hockey League affiliate in Rochester on Thursday. The move came after Reinhart's Canadian junior career ended Monday night when Kootenay was eliminated from the Western Hockey League playoffs. Reinhart will join Rochester on Friday...
MORE STORIES >>
Sabres News

Delivered to your inbox

You'll also receive Yardbarker's daily Top 10, featuring the best sports stories from around the web. Customize your newsletter to get articles on your favorite sports and teams. And the best part? It's free!