Lady luck doesn't seem to be all that impressed with the Boston Bruins. Calder candidate, Charlie McAvoy, will be out for at least a month with an MCL sprain. Bruce Cassidy on McAvoy's injury: "Could have been worse obviously….We'll be without Charlie for a little bit, we have lots...
The Boston Bruins are in great position heading into the playoffs. They currently sit in second place in the Eastern Conference with 18 games remaining. However, last week the Bruins found out that they would be without Patrice Bergeron, arguably their most important player for two weeks with a fractured foot. The Bruins have a lot of depth and can make up the production lost with...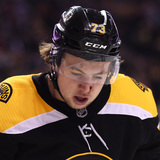 The Boston Bruins have lost one of their most important players, as the team announced that Charlie McAvoy has sprained his left MCL and will be re-evaluated in four weeks. That likely means the rookie defenseman is out for the remainder of the regular season. The injury was suffered on Saturday, when McAvoy tripped over the stick of Brendan Gallagher and fell awkwardly to the ice...
Charlie McAvoy left Saturday's overtime win against Montreal before the end of his first shift with a lower-body injury. The Bruins' defenseman, who was spotted wearing a brace on his left knee, will not play Tuesday against Detroit. McAvoy has played the second-most minutes per game for the second-place Bruins this season, tallying seven goals and […]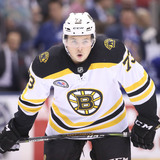 Great news for the Boston Bruins today, as young defenseman Charlie McAvoy has been medically cleared to return to full practice. While he won't be playing tonight for the team, there is a chance he could get back into the lineup this weekend. McAvoy underwent a procedure to treat an abnormal heart rhythm just last week, and all signs point to him moving past the episode quickly...
BOSTON - CLNS' Bruins Insider, Jimmy Murphy, reporting in from the Boston Bruins press conference on Charlie McAvoy's heart condition. Check out full report at https://www.clnsmedia.com/nhl --------------------------------------------------------------------------------- SUPPORT CLNS MEDIA: Powered by... DRAFT KINGS, go to http://draftkings.com and use PROMO CODE: CLNS for...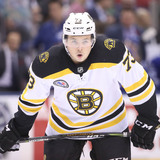 Boston Bruins rookie defenseman Charlie McAvoy underwent a procedure today to treat an "abnormal heart rhythm" that was first noticed after a game on November 26th. McAvoy will remain in hospital overnight, and has a recovery timeline of two weeks. Boston Bruins rookie defenseman Charlie McAvoy underwent a procedure today to treat an "abnormal heart rhythm" that was first noticed...
On January 12, the league-leading Tampa Bay Lightning announced that defenseman Victor Hedman would be out for three to six weeks with a lower-body injury. This is not only a loss for Tampa Bay as Hedman boasts an impressive 33 points this season, but also means he will miss the NHL All-Star Weekend. The All-Star weekend, where Hedman was one of four Lightning players selected, will...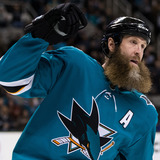 At the end of every work week, YardBarker will take a look at what the NHL has in store for the weekend. We'll see whose stock is soaring, who needs to get their act together and what tilts are promising to keep you on the edge of your seat.This week, the Bruins are surging in the East, while the Blackhawks are awaking in the West. Meanwhile, the Islands and Blues are stumbling,...
This past February, Charlie McAvoy was finishing up his sophomore season for the Boston University Terriers and taking exams in the college of communications. Fast forward a few short months to the first round of the 2017 playoffs and McAvoy had given up his collegiate eligibility by signing with the Boston Bruins, was suiting up for the series against the Ottawa Senators, and showing...
MORE STORIES >>
Bruins News

Delivered to your inbox

You'll also receive Yardbarker's daily Top 10, featuring the best sports stories from around the web. Customize your newsletter to get articles on your favorite sports and teams. And the best part? It's free!