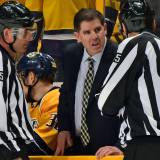 Welcome to Clarification Please, an ongoing series in which Yardbarker will take a look at rulings that have players, coaches and fans a bit puzzled. Whether it is regarding old "unwritten rules" or a new subsection IV schedule, these are some rules in which we would like to get more clarification from the leagues.In its freshman campaign, the NHL's coaches challenge had plenty of...
Head Coach Dave Tippett talks about the hard decisions to get down to 23 players for next Tuesday.
Coyotes Head Coach Dave Tippett answers questions after Friday's morning skate.
Head Coach Dave Tippett answers questions after Thursday's training camp practice
Head Coach Dave Tippett discusses day one of Prospect Camp
(photo credit: Noah Graham/NHL via Getty Images) To call the Phoenix Coyotes inconsistent up to this point in the season is a dramatic short-selling. Since exploding out the gate with a 14-4-3 record, the Coyotes are 8-12-6 since then and on the outside looking in for a playoff spot. Checking out as high as second in the ESPN NHL Power Rankings, the Coyotes now find themselves 20th...
MORE STORIES >>
NHL News

Delivered to your inbox

You'll also receive Yardbarker's daily Top 10, featuring the best sports stories from around the web. Customize your newsletter to get articles on your favorite sports and teams. And the best part? It's free!