We've updated our Privacy Policy.
By continuing to use this site, you are agreeing to the new Privacy Policy.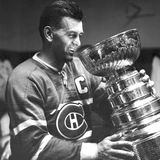 On this date 60 years ago, Maurice 'Rocket' Richard became the first NHL player to score 500 goals over the course of his career. Before there was Gretzky, Bossy or Lemieux, there was Richard, the NHL's original goal-scoring machine. He was the first NHL player to score 50 goals in a season, simultaneously also becoming the first to do so in just 50 games. He reached the 500-goal...
Scott Morrison reflects on the playing career of Frank Mahovlich with the Toronto Maple Leafs and the contract stalemate.
Toronto Maple Leafs unveil and honour Charlie Conacher, Red Kelly, Frank Mahovlich and Wendel Clark to Legends Row.
LIKE WHAT YOU SEE?
GET THE DAILY NEWSLETTER:
Wendel Clark, Frank Mahovlich, Red Kelly and Charlie Conacher will bring total to 14 outside Air Canada Centre.
Frank Mahovlich, Toronto Maple Leafs "Big M", ended his holdout yesterday by signing his 1966-67 contract. While terms were not officially released, it is believed Mahovlich signed for a base salary of $35,000 laden with bonuses that could make his final haul closer to $50,000. Mahovlich negotiated the pact with Leafs assistant general manager King Clancy. Clancy had been tasked...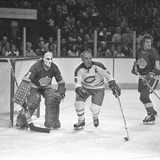 Twenty-six NHL players have six or more Stanley Cup championship wins. Can you name them all? Clue: Years active (Number of wins)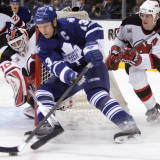 63 players of the Toronto Maple Leafs are in the Hockey Hall of Fame. How many of these honored NHL stars can you name? Clue: Position/Years active with team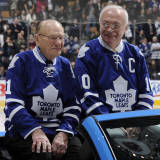 19 members of the Toronto Maple Leafs were on all three Stanley Cup winning teams from 1961-64. How many of these NHL players can you name? Clue: Number/Position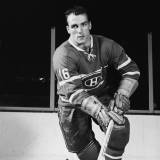 53 players on the Montreal Canadiens are members of the NHL Hall of Fame. How many of them can you name? Clue: Years active-Position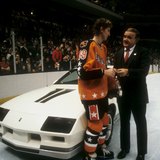 Since the NHL All-Star Game first announced an MVP in 1962, the honor has been awarded 46 times. How many NHL All-Star Game MVPs can you name? Note: There were no NHL ASGs in 1966, 1979, 1987, 1995, 2005, 2006, 2010, 2013, and 2014.
MORE STORIES >>
NHL News

Delivered to your inbox

You'll also receive Yardbarker's daily Top 10, featuring the best sports stories from around the web. Customize your newsletter to get articles on your favorite sports and teams. And the best part? It's free!