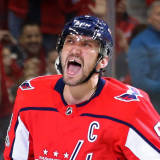 At the end of every work week, we will take a look at what the NHL has in store for the weekend. We'll see whose stock is soaring, who needs to get their act together, and what tilts are promising to keep you on the edge of your seat.Who's on fire heading into the weekend Yes, the Tampa Bay Lightning remain the team to beat, but they aren't the only squad out east that had a good...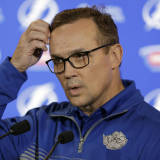 Winger Jannik Hansen perfectly summarized what it is like for an NHLer in the middle of trade deadline mania."Very hectic, the last 18 hours or so," he told the Bay Area media in his first conference call since being traded to the San Jose Sharks from the Vancouver Canucks. Sure, heading to a playoff-bound team from a squad that is struggling can be exciting. But the chaos and craziness...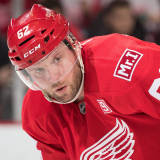 The NHL trade deadline is nearing, and this typically festive time of the season appears a bit more quiet and tame than usual. These couple of weeks ahead of the deadline are usually bubbling to the brim with rumors, until everything explodes on D-Day in a sea of fake Twitter accounts and out-of-left-field type deals. Yet here we sit, with very few trade rumors and announcements...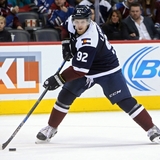 Tweet +1 Like Share Pin Reddit The Colorado Avalanche are currently preparing to embark on a four-game Canadian road trip. For the first three of those contests, they will...
Tweet +1 Like Share Pin Reddit It's easy to watch athletes on TV and say, "If I was just a little bit taller, a little bit stronger, a little bit quicker, I could do that...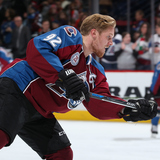 Colorado Avalanche forward Gabriel Landeskog has spent a bit of time sidelined with injury this hockey season. But, luckily, he isn't expected to miss any ice time after taking a puck to the face Monday night. In the third period of Monday's game against the San Jose Sharks, Landeskog ended up in a heap on the ice when San Jose defenseman Dylan DeMelo shot a rolling puck that caught...
  Ask 20 hockey fans the same question and you'll get 20 different answers. While most sports fans are an argumentative bunch, hockey fans stand on the shoulders of giants in that department. One thing Colorado Avalanche fans can agree on however is that the team is not very good. But where the dividing line comes crashing down is what to do about it. To this question, you'll get...
Colorado Avalanche star Gabriel Landeskog just gave the effort against bullying an assist. The Avs captain will sign autographs as a fundraiser for "Friends Colorado," a local branch of the global anti-bullying organization, on Monday, September 14 from 5-7 at the Pepsi Center. "It's important to give everyone the opportunity to succeed whether it's in sports, school or other areas...
Colorado Avalanche captain Gabriel Landeskog is hard at work getting prepared for the upcoming season, and he's enjoying his time away from the ice by dressing down – way down. The 22-year-old has been spending time in Sweden with several other NHL players training with Andreas Öhgren who is a renowned personal trainer. Landeskog seems to be getting his body in shape for training...
  BSN's Top 25 Avalanche Under 25 series is coming to a close as we rank the trio of young forwards who will likely come to define the Avalanche over the next decade.  First up in the final three: the captain, the face of the franchise – Gabriel Landeskog. Among our BSN Staff, half ranked Landeskog third overall and half ranked him fourth overall. Landeskog's average ranking of 3...
MORE STORIES >>
Avalanche News

Delivered to your inbox

You'll also receive Yardbarker's daily Top 10, featuring the best sports stories from around the web. Customize your newsletter to get articles on your favorite sports and teams. And the best part? It's free!