View image | gettyimages.com   It looked to be getting very ugly. Playing against another team at the bottom of the standings, the Philadelphia Flyers still couldn't find any offense. After a stretch of 27 minutes without a shot on goal, the Flyers were trailing 2-0 and only had three shots on goal halfway through the game. Maybe the Flyers had finally found rock bottom...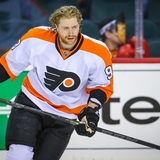 Jakub Voracek was, in my opinion, clearly the team MVP last season.  He hit a career high 81 points, and was all over the ice.  Therefore you probably don't need me to use any advanced stats or graphs to tell that his stat line as of Thursday of 12 games played, 0 goals, 4 assists, and -6 is not very good.  (All stats referenced in this post will also be as of Thursday afternoon...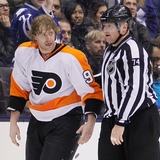 Flyers right winger Jakub Voracek has always been far more concerned with his team's record than his personal statistics.  Last season, when he led the race for the Art Ross Trophy (top scoring player in the NHL) for much of the season, he inevitably responded to questions about his own numbers by saying that he could not take satisfaction in individual stats when the team was...
Men's hockey has begun at the Sochi Olympics, and a majority of NHL players are getting a break from the season, while a select few represent their home nations on the world stage. With 62 days of hockey left before the league's top 16 teams compete for the Cup, the playoffs are looming ever closer, and teams are grasping at a spot. Let's say the season ended today, and tomorrow...
Jakub Voracek has yet to score a goal in eight games this season. He scored a career-high 22 goals last season. Photo Courtesy of ESPN.com The Flyers locker room on Monday was full of quotable moments: from Steve Mason's comments about playing in Philadelphia to Claude Giroux's bold prediction. If there's one thing the Flyers could use the week off for, it's self-evaluation...
Philadelphia Flyers forward Jakub Voracek, back home in his native Czech Republic for the off-season, amazingly was able to walk away from a horrific-looking accident in which he totaled his Ferrari. The accident occurred on Wednesday morning near his hometown of Kladn and given the state of his Ferrari, the fact he came away unscathed [...]The post Flyers forward Jakub Voracek uninjured...
MORE STORIES >>
Flyers News

Delivered to your inbox

You'll also receive Yardbarker's daily Top 10, featuring the best sports stories from around the web. Customize your newsletter to get articles on your favorite sports and teams. And the best part? It's free!