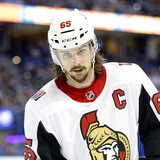 2017 was quite a busy year in the hockey world. There was been several big trades, the first expansion team in over 15 years and much more. Over the last month, PHR has taken a look back at the top stories from around the game on a month-by-month basis. You can find the first 11 installments here: January, February, March, April, May, June, July, August, September, October, November...
Newly acquired forward Matt Moulson is already making for himself as a member of the Minnesota Wild but this highlight will live in Internet infamy. Moulson went to take a snapshot in the slot and fell down when he whiffed. It looked like his stick broke, but towards the end of the GIF his stick is still intact. Tough break. [@cjzero] The post Wild forward Matt Moulson whiffs on...
Matt Moulson just added some new meaning to the term "fan favorite." On Sunday, the 30-year-old forward was part of the blockbuster deal that sent him packing to Buffalo in exchange for a couple of draft picks and the Sabres captain, Thomas Vanek. Although Moulson made his mark in New York, scoring 30-plus goals in three consecutive seasons for the club, he likely won't go down...
MORE STORIES >>
Sabres News

Delivered to your inbox

You'll also receive Yardbarker's daily Top 10, featuring the best sports stories from around the web. Customize your newsletter to get articles on your favorite sports and teams. And the best part? It's free!