Nikita Zadorov of the Avalanche is learning what it takes to be a real pro.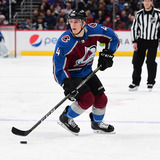 As it is with most teams who make a surprising turnaround from one year to the next, the Colorado Avalanche, fresh off one of the worst seasons in recent memory, may not even be a seller this time around at the NHL Trade Deadline. The 2017-18 season has gone much better for the Avs, with their play of late – a convincing eight-game winning streak – pulling them into the playoff picture...
Interview with Nikita Zadorov after the Winnipeg Jets vs. Colorado Avalanche.
Interview with Nikita Zadorov after the Colorado Avalanche at Boston Bruins.
  In today's chat with Nikita Zadorov, we find out what the defenseman thinks of his skills, his reassignment to the AHL, and his coaches, both with the Avalanche and the Rampage. Zadorov also weighs in on the three-on-three overtime format and playing on special teams. Shout out to Steve House of Mile High Hockey for sound editing. Next week, we'll sit down with goaltender Spencer...
  Last Saturday, the Colorado Avalanche sent 20-year old defenseman Nikita Zadorov down to their AHL affiliate, the San Antonio Rampage. I was surprised. I was disappointed. While I understand the team's rough start presents a variety of challenges, I wish the Avalanche would provide a little more insight into their strategy. As it stands, the reassignment raises more questions than...
In a bit of early morning news that will disappoint many, the Colorado Avalanche demoted highly-touted young defenseman Nikita Zadorov to the San Antonio Rampage of the American Hockey League. The 20-year old Zadorov was seen as the primary piece of the return the Avalanche got from the Buffalo Sabres in exchange for Ryan O'Reilly. He has made appearances in 11 games, registering...
Nikita Zadorov #51 of the Buffalo Sabres checks Jordin Tootoo #20 of the New Jersey Devils during the first period against the at the Prudential Center on February 17, 2015 in Newark, New Jersey. (Mandatory Credit: Jim McIsaac/Getty images)   At 6'5 and just shy of 220 pounds, Nikita Zadorov is the ideal prototype of what NHL clubs around the league look for in a defenseman. Chosen...
MORE STORIES >>
Avalanche News

Delivered to your inbox

You'll also receive Yardbarker's daily Top 10, featuring the best sports stories from around the web. Customize your newsletter to get articles on your favorite sports and teams. And the best part? It's free!