Jonathan Toews' offense usually comes in spurts. We're seeing it again right now. But it's no coincidence his numbers have spiked since Patrick Kane joined him
History was made on Saturday in Buffalo. The post Jonathan Toews and Patrick Kane Join Elite Company in History Books appeared first on Committed Indians.
Chicago looks to snap a three-game road losing streak. The Chicago Blackhawks will go for the two-game season series sweep of the Buffalo Sabres in a Saturday matinee at KeyBank Center in Buffalo. The Hawks won the first meeting 3-2 in overtime Dec. 8 in Chicago. Jonathan Toews and Patrick Kane share the team lead with 15 career points against the Sabres. Kane has two goals and...
Jack Hughes will, without a shadow of a doubt, be the first player selected in the 2019 NHL Entry Draft. Yes, Hughes is only 16 years-of-age, however, his continued on-ice dominance of his peers has solidified the youngster as an undeniable blue-chip NHL prospect. As a smooth skater who owns great hands and seemingly endless vision, Hughes' ability to both pass and shoot the puck...
In the latest Blackhawks in 60, Patrick Kane led his team to a 3-1 win over the Bruins on Sunday afternoon.
Patrick Kane scored a goal that impressed Joel Quenneville in a win against the Bruins.
Patrick Kane's goal late in the third period was one of two goals that involved the power play and led the Blackhawks to a 3-1 win.
Chicago's right winger scored the go-ahead goal late in the third, ending Boston's six-game winning streak, on Sunday.
Watch as Jonathan Toews takes a sweet saucer pass from Patrick Kane and sc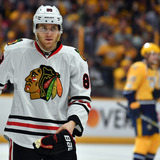 Chicago Blackhawks star Patrick Kane is earning well-deserved praise this week after news surfaced that he gave up his first-class seat on a recent flight to a member of the U.S. military.Kane evidently noticed the serviceman seated in coach. According to American Airlines flight attendant Teri Truss, Kane offered up his cushier seat up front."[Kane] said 'There's a soldier on this...
MORE STORIES >>
Blackhawks News

Delivered to your inbox

You'll also receive Yardbarker's daily Top 10, featuring the best sports stories from around the web. Customize your newsletter to get articles on your favorite sports and teams. And the best part? It's free!