We've updated our Privacy Policy.
By continuing to use this site, you are agreeing to the new Privacy Policy.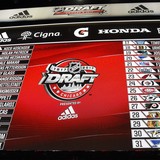 It's the end of an era for the University of Minnesota, as head coach Don Lucia has stepped down after 19 years with the program. Those years included back-to-back National Championships in 2002 and 2003 and guiding a long pipeline of talent to professional hockey. Superstar talents like Blake Wheeler and Phil Kessel played under Lucia during their time at Minnesota, and most recently...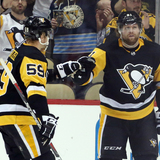 Phil Kessel is in the mix for the Art Ross Trophy, but he doesn't seem to care too much about it.Kessel was asked Friday whether he has been following the points race in the NHL. He gave a pretty awesome answer."I got two Cups," Kessel said, via the Pittsburgh Post-Gazette. "Doesn't really matter."How do you not love that?Kessel has scored 24 goals this season and recorded 66 points...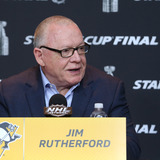 The Pittsburgh Penguins and GM Jim Rutherford made no attempt to hide the fact that they were after a third-line center early in the season. Rutherford admitted several times that he had certain candidates in mind, and eventually went out and added Riley Sheahan from the Detroit Red Wings. Sheahan wasn't the "impact" player that Rutherford had spoken about, but he was at least a...
LIKE WHAT YOU SEE?
GET THE DAILY NEWSLETTER: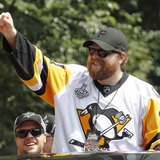 Phil Kessel is still hung up on the hot dog story.When Kessel was traded from Toronto, where he was viewed as a disappointment, to Pittsburgh two years ago, a Toronto newspaper article buried him on his way out the door. The article declared that the Maple Leafs were sick and tired of Kessel, and it even included a detail about the winger supposedly eating hot dogs daily.Fast forward...
There are times when Phil Kessel makes little or no impact on the ice, but on the other hand, he seems to come through in the clutch with a big goal when the team needs him most. That's just the type of player he is, and Pens fans have come to expect it. He's only been with the team for two seasons, but his timeliness for scoring has made him a favorite among some of them — behind...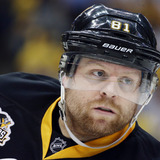 Pittsburgh Penguins fans Nicole and Adam Hillman welcomed a newborn boy to their family on Mother's Day at a Pittsburgh hospital. While the couple didn't know the gender of the baby until the birth, there was a plan in place for the name if it was a boy.And now, the Hillmans are the proud parents of Kessel Ryan, named in honor of Penguins winger Phil Kessel.Via Pittsburgh's WTAE...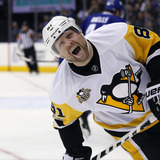 There are no words to properly describe this tattoo of Phil Kessel that a Penguins fan recently had done on himself.The fan decided to show his love for Kessel in the weirdest way possible. Kessel, who is nicknamed the "Hot Dog Hammer," is now essentially immortalized on the fan's lower thigh.The tattoo shows Kessel riding a hot dog, with the Stanley Cup in one hand, and a jar of...
Fans in attendance at Team USA's final game in what has been a disastrous appearance in the World Cup of Hockey added insult to injury by chanting "Let's Go Kessel" during play. That moment when the ACC starts chanting "LET'S GO KESSEL" in the middle of a #TeamUSA Game #WCH2016 #SavageChirps pic.twitter.com/MHwHIJhhtq — Bar South N Celly™ (@BarSouthNCelly) September 23, 2016...
Welcome to the YB Box Score, what we're reading while we wait for the next Dodgers-Giants series. (At least it will be more spirited than Team USA vs. Team Canada vs. Team North America... wait what now?) Around the league:  Something doesn't seem right with Aaron Rodgers this season. What's going on with the two-time MVP? [The Ringer] Okay, so you've lost Adrian Peterson from...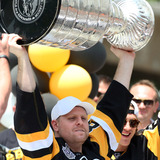 Penguins winger Phil Kessel spent the six seasons leading up to his time in Pittsburgh with the Toronto Maple Leafs, and it's clear that he still has a soft spot for the city. It was Kessel's turn to spend 24 hours with the Stanley Cup trophy, and he put it to good use. Kessel returned to Toronto and brought the Cup to The Hospital for Sick Children, a place he had visited multiple...
MORE STORIES >>
Penguins News

Delivered to your inbox

You'll also receive Yardbarker's daily Top 10, featuring the best sports stories from around the web. Customize your newsletter to get articles on your favorite sports and teams. And the best part? It's free!