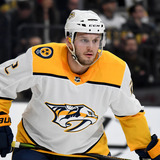 The Nashville Predators have given themselves some cost certainty among their depth defensemen, signing Yannick Weber to a two-year extension worth a total of $1.35MM. Weber was set to hit unrestricted free agency this summer, but will now be with the club through the 2019-20 season. The team also announced a one-year extension for Anthony Bitetto, worth $650K. Bitetto was in the...
Even though its been a while, Nashville Predators defenceman Yannick Weber scores a beautiful goal to put his team up 1-0 against the St. Louis Blues.
Boom! No one is safe on the ice when Yannick Weber is patrolling the blue line.In the Vancouver Canucks' preseason game against the San Jose Sharks, Weber absolutely decked Don Henderson. The problem is...well...Don Henderson is a ref.Hey, it's preseason for everyone. It's going to take some time to work out these kinks.(h/t Sportsnet)
New York Islanders captain Mark Streit and Montreal Canadiens defenseman Yannick Weber are returning home to play in Switzerland during the NHL lockout. Bern says it has signed Streit and Geneva-Servette says it recruited Weber. Geneva-Servette coach Chris McSorley says the club expects to announce another signing on Wednesday. San Jose Sharks captain Joe Thornton is also expected...
Canadiens defenseman Yannick Weber has often said he'll play wherever the team wants. Three weeks into the season, though, it's pretty clear that the back end is where he belongs. Before Saturday's game, Weber was fourth on the team in ice time per game, averaging 20 minutes, 12 seconds per night. He ranked second among Montreal defensemen in scoring, trailing Josh Gorges by two...
MORE STORIES >>
Predators News

Delivered to your inbox

You'll also receive Yardbarker's daily Top 10, featuring the best sports stories from around the web. Customize your newsletter to get articles on your favorite sports and teams. And the best part? It's free!