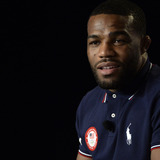 United States wrestler Jordan Burroughs is in Rio hoping to defend his Olympic gold medal. While he has to worry about a string of world class opponents, Burroughs also has to contend with some rather strict rules in the bathroom. No upperdeckers. No fishing. No peeing like a dog. Got it. Here's our bathroom warning in Rio. pic.twitter.com/T4lsBXrb8B — Jordan Burroughs (@alliseeisgold...
LAS VEGAS — After blowing his shot at a world title in 2014, American Jordan Burroughs wondered if he was over the hill. He isn't. Burroughs won his third world crown Saturday to close the wrestling championships. The 27-year-old Burroughs beat Mongolia's Unurbat Purevjav 10-0 at 74 kilograms (163 pounds) for his fourth major title — including gold at the London Games — since 2011...
LAS VEGAS (AP) American Jordan Burroughs is still the biggest star in wrestling. But after getting beat at last year's world championships, Burroughs is intent on proving he is also still the best pound-for-pound athlete in the sport. The expectations - and the pressure - couldn't be any higher for Burroughs entering Saturday's 74-kilogram freestyle competition at the world championships...
When it comes to freestyle wrestling, Jordan Burroughs is the man to beat. The 2012 Olympic gold medalist and two-time World Champion from New Jersey has a winning streak of
Freestyle wrestling world champion and 2012 Olympic gold medalist Jordan Burroughs was ready to make a move to mixed martial arts after another run in 2016, but it appears he's now decided otherwise. A former NCAA champion who is now considered the top wrestler in the sport on the international level, Burroughs was expected to be a huge land for MMA when he finally made the transition...
I hope I'm wrong. I hope that you know all about Jordan Burroughs — his insanely impressive recent victory in Budapest, his win streak and, of course, his gold medal. But more than likely, the modern face of USA wrestling isn't too familiar to you and that's a problem. In the past 20 years, wrestling […]The post Jordan Burroughs: The Greatest (Active) Athlete You've Never Heard Of...
American Jordan Burroughs won his second wrestling world championship on Wednesday, defeating Iran's Ezzatollah Akbarizarinkolaei in the final. Burroughs, a gold medalist at the 2012 Olympics, extended his undefeated streak to 65 matches with a 4-0 victory over Akbarizarinkolaei in the 74-kilogram category at the Laszlo Papp Sports Arena in Budapest. After the final, Burroughs...
BACK IN THE MIX
Earlier this year the International Olympic Committee announced that it would be dropping wrestling from the 2020 Summer Olympics program. Yesterday the IOC revealed that the one of the candidates to replace wrestling in the Games of the XXXII Olympiad is, well, wrestling. American wrestler Jordan Burroughs celebrates after winning gold at the 2012 Games in London. (Photo by Orestis...
If you call your shot, you better make it. Miss a called shot and you're a fool, a too-cocky bonehead who just couldn't live up to your own hype. What if Babe Ruth had pointed to center field at the 1932 World Series and then hit a towering blast to the warning track? What if Joe Namath played magnificently after guaranteeing victory in Super Bowl III but was let down by his defense...
MORE STORIES >>
Olympic Wrestling News

Delivered to your inbox

You'll also receive Yardbarker's daily Top 10, featuring the best sports stories from around the web. Customize your newsletter to get articles on your favorite sports and teams. And the best part? It's free!