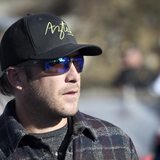 Bode Miller apologized Wednesday evening for comments he made while on the air earlier in the day regarding an Olympic skier.Miller and broadcast partner Dan Hicks were discussing Austria's Anna Veith and her performances prior to and since surgery to repair a torn ACL. Hicks pointed to the procedure as a possible reason for Veith not performing at the same level she once did. Miller...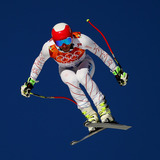 Bode Miller, arguably the greatest male American alpine skier of all time, turns 40 today. To celebrate his career, here is a gallery of moments from his 40 years of racing, innovation, controversy and partying. You know Bode's is going to party at a world-class level for number 40. 
An interview that occurred after Bode Miller won a bronze medal in the Super G on Sunday is generating more attention than the veteran skier's impressive performance through which he secured is sixth Winter Olympics medal. Shortly after the final skiers finished and the results were final, Miller was approached by NBC reporter Christin Cooper […]The post Bode Miller defends NBC reporter...
Skier Bode Miller and a former flame agreed on Monday to share time with their infant son for the next four months, calming a court fight over him as Miller heads toward the Winter Olympics. The temporary arrangement isn't the final word in a custody clash that has become a public drama for the skier and a cause of concern among women's rights activists. But the pact is in place...
Snowboarder Chelone Miller, the younger brother of Olympic gold medalist Bode Miller, died Sunday in the area of Mammoth Lakes, Calif. He was 29. The Mono County Sheriff's Office confirmed his death Monday in a statement. The cause of death is being investigated, but authorities say foul play is not suspected. Chelone Miller, of Easton, N.H., was hoping to make the U.S. squad in...
Nobody can ever accuse Bode Miller of lacking fertility. According to a report from TMZ, the Olympic skier and gold medal winner has filed two paternity suits to establish custody with two separate women. One of the suits involves a woman named Sara McKenna, who is currently pregnant and due in February. Miller is seeking joint legal and physical custody of the soon-to-be-born boy...
A sunglasses company is claiming that pro volleyball player Morgan Miller — the wife of Olympic skier Bode Miller — would be missing one of her eyes if not for the special sunglasses she was wearing when her husband teed off a golf ball into her face, reports TMZ. Morgan tweeted about her husband's wayward shot after it happened on Wednesday.  She also posted a  grisly-looking photo...
If Bode Miller's wife chose to never play golf again in her life, no one would blame her. Morgan Miller, a professional volleyball player who was formerly known as Morgan Beck, decided to play a little golf on Wednesday with her Olympic gold medalist husband. Things did not go as planned. According to Morgan's Twitter account, Bode accidentally drilled her with what she described...
MORE STORIES >>
Skiing News

Delivered to your inbox

You'll also receive Yardbarker's daily Top 10, featuring the best sports stories from around the web. Customize your newsletter to get articles on your favorite sports and teams. And the best part? It's free!