We've updated our Privacy Policy.
By continuing to use this site, you are agreeing to the new Privacy Policy.
It's been a really sleepy start to the Union season. Three games in five weeks makes it hard to generate any kind of continuity or buzz, especially during a combination Sixers and Flyers playoff push. It also doesn't exactly help when the first two matches feature an early sending off and a snoozer of a scoreless draw. The glass half full approach would center on the idea that the...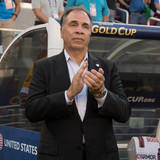 Until the recent loss to Costa Rica, the USMNT had gone 9-0-5 since new manager Bruce Arena replaced Jurgen Klinsmann in November. While the quality of their opponents has varied, Arena has been credited with righting a ship that seemed to be adrift during the Klinsmann era.  With squad experimentation replaced by a stable lineup and veteran leadership, the Stars and Stripes have...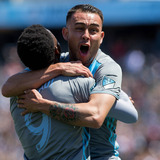 Hello and welcome to 'Kicking it' with Demetrius Bell and Megan Armstrong, two of Yardbarker's most discerning soccer specialists. Lots to cover this week, so let's get right to it. Last time we talked we wondered if the Galaxy could turn it around, but maybe it's the Rapids we should be more worried about as they've dropped five in a row just as the grind of the season sets in....
LIKE WHAT YOU SEE?
GET THE DAILY NEWSLETTER:
Six quiet days around Christmas provided Alejandro Bedoya with a desperately needed chance to take stock.The United States midfielder spent the final few months of last year fighting his body and struggling to reach his best form. One thing piled up after the other: the fatigue from playing three years without a summer break, the knee injury at the end of the previous season that...
Grantland featured former Eagle Alejandro Bedoya Tuesday and wrote that he is model for U.S. Soccer and reinforces Jürgen Klinsmann's desire to have his players playing in Europe's best leagues and not MLS. The BC-connection to it all was that Bedoya elected to play in Sweden after finishing up at BC because of another Eagle Charlie Davies. His friend prepared him for the social...
The United States had a frightening moment in the second half against Germany on Thursday when midfielders Jermaine Jones and Alejandro Bedoya collided near the top of the German box. The two players appeared to smack heads with each other before they each fell to the turf. Trainers came out to examine both Jones and […]
United States men's national team midfielde r Alejandro Bedoya has joined Ligue 1 club FC Nantes on a three-year deal the team announced on Thursday. Bedoya, 26, has scored 1 goal in 19 appearances for the United States. The former Boston College and Rangers standout played for Swedish club Helsingborgs IF last season and helped the club reach the UEFA Europa League group stage...
Alejandro Bedoya could be set to face Celtic in the Champions League after leaving Rangers to sign for Helsingborgs. The US international struggled to make an impression at Ibrox after arriving from Orebro last summer and has returned to Sweden after deciding against continuing his career in the Irn-Bru Third Division. Bedoya confirmed his move on Twitter on Friday night after...
Former Rangers midfielder Alejandro Bedoya is returning to Swedish football after signing a short-term contract with champion Helsingborg. The club said in a statement late Friday that the 25-year-old American will train with the squad on Sunday. With Rangers placed under bankruptcy protection and now playing in the fourth tier of Scottish football, Helsingborg called the deal...
Alejandro Bedoya was one of the revelations of the US men's national team's Gold Cup, and now he's ready to take a big step forward in his professional career. Bedoya will join Scottish champions Glasgow Rangers on a transfer from Swedish club Orebro after the clubs reached an agreement on a fee for Bedoya, who was set to leave the club this winter. Bedoya was already set to join...
MORE STORIES >>
Soccer News

Delivered to your inbox

You'll also receive Yardbarker's daily Top 10, featuring the best sports stories from around the web. Customize your newsletter to get articles on your favorite sports and teams. And the best part? It's free!