We've updated our Privacy Policy.
By continuing to use this site, you are agreeing to the new Privacy Policy.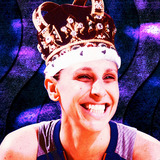 Diana Taurasi made significant history over the weekend, as she became the all-time leading scorer in WNBA history. It was just the latest accomplishment for the Phoenix Mercury guard in a career that is chock full of them. If she is not the best women's player of all-time, she is certainly on the short list. She is a marquee name both at home and overseas. In fact, she is so good...
NEW YORK (AP) The New York Liberty say Swin Cash is taking on a new role with the team, becoming its director of franchise development. In the position announced Tuesday, the first of its kind in the WNBA, Cash will help with both business and basketball operations, aiding in the growth of the Liberty franchise, in addition to working with players and coaches. Cash joins Los...
Swin Cash has been one of the best players in the history of the WNBA and it looks like her career is finally coming to an end. After 15 years in the league, the forward will hang up her shoes at the end of the 2016 season. Swin Cash (@nyliberty) to retire at end of the season Cash is in her 15th @WNBA season and ranks 6th in league history w/ 452 games played — ESPN Stats &amp...
LIKE WHAT YOU SEE?
GET THE DAILY NEWSLETTER:
NEW YORK (AP) The Liberty re-signed veteran Swin Cash 10 days after cutting her for salary cap reasons. The forward was released before the season started to save salary cap space, and the team waited the minimum time required by league rules before signing her on Tuesday. The 36-year-old Cash started 28 games for New York last season, averaging 17 minutes and 4.5 points and...
Swin Cash is one of the newer faces on the CBS/Turner network family of March Madness coverage, and she has been a great addition. Cash is a former UConn women's basketball star who plays for the New York Liberty in the WNBA. She is a two-time WNBA league MVP, so obviously she's knowledgeable about basketball. But more than that, she is able to communicate in a fun and entertaining...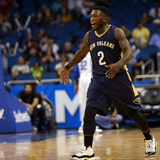 On Tuesday, Gilbert Arenas used his Instagram account to share some pretty sexist thoughts on the WNBA. Not surprisingly, he has received more than a little backlash for it. Among those to have an issue with what Arenas said is Swin Cash of the New York Liberty, who said he needs a hug and attention. Next up, is Nate Robinson. Robinson used his Instagram account in a much different...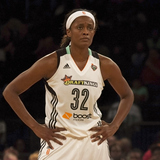 Gilbert Arenas made some ridiculously dumb comments about the WNBA on his Instagram page this week, and there is sure to be backlash. Some of it has already come in the form of a few tweets from women's basketball star Swin Cash. Cash, a New York Liberty forward who won two national championships at UConn, believes Arenas is just looking for attention and people are giving him what...
Epiphanny Prince scored 12 of her 16 points in the fourth quarter as the Chicago Sky rallied from 16 points down in the second half to beat the Seattle Storm 79-66 on Thursday night. Swin Cash scored 18 points against her former team, Sylvia Fowles had 16 points and 10 rebounnds and Allie Quigley added a career high-tying 14 points for the Sky (16-8). Chicago used a 17-0 run in...
With the USA men's team setting umpteen records in their 83-point win over Nigeria Thursday and the U.S. women's team en route to their unprecedented fifth consecutive gold medal, there is a lot to laugh about on the topic of the United States and international hoops.  New York Knicks guard Baron Davis, who's recovering from a torn ACL, and U.S. women's/Chicago Sky forward Swin...
MORE STORIES >>
WNBA News

Delivered to your inbox

You'll also receive Yardbarker's daily Top 10, featuring the best sports stories from around the web. Customize your newsletter to get articles on your favorite sports and teams. And the best part? It's free!