Found January 23, 2013 on Monkey with a Halo:
The MWAH prospect countdown marches on with this year's catching prospect du jour.  Maybe this one will actually work out. Zach Wright Position: C  Highest Level: Low-A Bats: Right Throws: Right  Height: 6'1" Weight: 205 lbs. Age: 23  Born: 1/10/90 2012 Season Stats Low-A: 214 PA, .268 AVG, .385 OBP, .419 SLG, 7 2B, 1 3B, 6 HR, 23 RBI, 38 SO, 1 SB, 2 CS, .319 BABIP Contact – C+.  Wright's ability to make contact was slightly below average throughout college.  However, like all good prospects, he showed the ability to develop this particular skill, and his strikeouts came under control during his senior year.  This trend continued in his stint in A-Ball (he skipped Rookie Ball after being drafted).  He'll probably swing and miss more as he progresses through the system, but he gets a slightly above average grade because of his ability to make adjustments.      Power – B.  This is what attracted so many teams to Wright.  Power hitting catchers are a rarity, and even more rare are power hitting catchers that can remain catchers and not become first baseman or DH's.  The Midwest League isn't a hitter friendly environment, but Wright drove balls into the gaps and over fences with authority.  This isn't a feigning ability either, Wright's build suggests he may become even stronger with age.        Discipline – B+.  Wright is another one of those picks that screams "Dipoto selection".  He's got a good eye, works counts in his favor and will walk his way on base when necessary.  Scouts within the organization rave about Wright's ability to make adjustments and advanced approach at the plate.  The Angels themselves were surprised Wright was still on the board after the 10th round given his ability to reach base.  On their board, he was projected to go in the 5th round. Speed – C.  Wright is fast enough to swipe a base when needed but I wouldn't put him in a foot race with most outfielders or middle infielders. Arm – B.  Wright's flashed a strong arm through all four years at East Carolina and scouts saw more of the same in Cedar Rapids.  Combined with his ability to get in front of pitches in the dirt, it's clear that Wright will remain a catcher throughout higher levels of the organization.   Performance – B.  How many mid-round selections skip rookie ball altogether and hold their own and then some in A-Ball?  He hit for power, he played excellent defense and showed an advanced eye at the plate. Projection – B-.  Wright doesn't project into being a superstar, but it's clear that his tools are better than that of most collegiate mid-round selections.  If he continues to develop, the best comparison for him would actually be current Angels catcher Chris Iannetta given his power, arm and discipline.     Estimated MLB Arrival Date – 2015/2016. (*As always, the above scouting report is provided by Scotty Allen of LA Angels Insider) Season Summary: Wright was selected in the 12th round of the 2012 draft by the Halos but what really got him noticed in prospect circles was his start to his first pro season in which he clubbed five homers in his first 42 at-bats.  We all know better than to read much into that kind of a small sample size, but the idea of a solid two-way catcher is pretty tantalizing and his strong debut merely served to pique our interest.  And Wright is no flash in the pan either as he had a very nice (but not great) career at East Carolina and was even drafted in the 6th round of the 2011 draft only to not sign.  His early power surge seems unlikely to last, but even after he came back down to earth, Wright continued to get on base at an impressive rate, a growing trend amongst this first draft class of the Dipoto regime.  That isn't to say he doesn't have power, he just doesn't have one homer per every ten plate appearances power.  Perhaps this is damning Wright with feint praise, but the Halos' system is full of half-decent catching prospects, but as of right now, he seems like the safest bet (which really isn't very safe at all) to wind up as a starting caliber catcher. What to Expect in 2013: With the aformentioned logjam of catching prospects, it will be interesting to see how they handle promoting Wright.  His defensive skillset is already fairly advanced, which we all know is highly important in the eyes of the great and might Scioscia, so the Halos can afford to be aggressive with Wright and possibly leapfrog him all the way to Double-A at some point in 2013.  The trick will be not putting him into a position where he has to focus so much on getting his bat up to par that he sacrifices his defensive development in the process. [follow]
Original Story:
http://www.monkeywithahalo.com/prospe...
THE BACKYARD
BEST OF MAXIM
RELATED ARTICLES
Interview conducted on January 23, 2013 by David Saltzer, AngelsWin.com Senior Writer  Whenever I go to a meeting, I hope to get just one bit of useful information in order to call the meeting a success. Sometimes that doesn't always happen, but I am always hopeful. Yesterday I met with Jerry Dipoto, the General Manager for the Los Angeles Angels of Anaheim. I hoped to ask...
The January 24th, 2013 edition of daily news for the Los Angeles Angels of Anaheim including Wells not likely to be traded, wondering if Luis Jimenez could be a breakout candidate and much more... The Story: Thanks to Delmon Young signing in Philadelphia, it now appears "likely" that Vernon Wells will not be traded before Opening Day. The Monkey Says: Delmon Young...
By Gregory Bird - AngelsWin.com Columnist In our first two articles we looked in depth at Torii's performance last year batting second. We also examined the candidates to replace him. But it's still unclear, so we ask again: Who goes in the two-hole in 2013? Of course, we all want a lineup—billed as the most prolific of our era— to live up to expectations and carry the...
While Los Angeles Angels outfielder Vernon Wells has been involved in several trade rumors this offseason, it is "very" likely that he remains with the Halos, according to Alden Gonzalez of MLB.com. Source said last week it's "very" likely Vernon Wells starts season on #Angels. Chances even greater now w/ #Phillies signing Delmon Young. — Alden Gonzalez...
This is a question that doesn't deserve to be dignified with an answer. C'mon now, shouldn't Josh Hamilton really be batting 2nd in the Angels' lineup come 2013? The answer is so obvious, who wouldn't want to see a Trout-Hamilton-Pujols-Trumbo lineup? That is easily the deadliest 1-4 in all of baseball within recent memory. I haven't been a fan of baseball as...
Few people benefitted more from this offseason (indirectly) than Erick Aybar. Assuming he holds down the second spot in the Angels stacked lineup like MLBDepthCharts.com projects, it's virtually impossible for him to score fewer than the 85 runs we project. Josh Hamilton and Albert Pujols might be baseball's best 3-4 duo, and if they're not it's only because Detroit has the...
     Watching Howie Kendrick hit has always been a joy for me.  The way he sprays line drives all over the field is simply fun to watch.  When a hitter is consistently able to square the ball up no matter the location, they are pretty special.  Kendrick falls into this category when he is going well, as he is extremely tough to get out and seems to hit everything.  Angel...
Ben and Sam answer listener emails about pitcher injuries and pitching prospects, hitter BABIPs (specifically Mike Trout`s), and whether they boo baseball players.
The January 23rd, 2013 edition of daily news for the Los Angeles Angels of Anaheim including the Angels need to give Mike Trout an extension now, projecting Hamilton based on swing and contract rates and much more... The Story: Jim Bowden thinks the Angels should extend Mike Trout right now. The Monkey Says: He also thinks that water is wet, that murder is bad and that Lance...
The January 22nd, 2013 edition of daily news for the Los Angeles Angels of Anaheim including Trout accepts RoY award, the 2002 Angels bullpen one of the best ever and much more... The Story: Mike Trout formally accepts his AL Rookie of the Year award. The Monkey Says: Public speaking is not one of his five tools.  I'm a bit disappointed in him for not taking a jab at...
Angels News

Delivered to your inbox

You'll also receive Yardbarker's daily Top 10, featuring the best sports stories from around the web. Customize your newsletter to get articles on your favorite sports and teams. And the best part? It's free!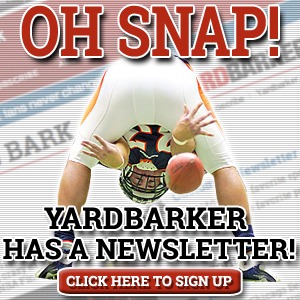 Latest Rumors
Best of Yardbarker

Today's Best Stuff

For Bloggers

Join the Yardbarker Network for more promotion, traffic, and money.

Company Info

Help

What is Yardbarker?

Yardbarker is the largest network of sports blogs and pro athlete blogs on the web. This site is the hub of the Yardbarker Network, where our editors and algorithms curate the best sports content from our network and beyond.