Found February 11, 2013 on Laker Nation:
PLAYERS:
LeBron James
,
Dwyane Wade
,
Earl Clark
,
Kobe Bryant
,
Dwight Howard
,
Pau Gasol
,
Jordan Hill
TEAMS:
Miami Heat
,
Los Angeles Lakers
,
Utah Jazz
,
Houston Rockets
,
Portland Trail Blazers
,
Sacramento Kings
,
Orlando Magic
,
Phoenix Suns
,
Los Angeles Clippers
Image Credit: Mike Ehrmann | Getty Images Sunday's loss to mighty Lebron James and his Miami Heat will probably be a tough pill to swallow for the Lakers simply because the game was theirs to win. Despite the dominating performance of James and Dwyane Wade, a few miscues and lack of discipline down the stretch really killed the Lakers chances to stay competitive at the end. Here are five takeaways from the Lakers vs. Heat game: Yes, it's really about the turnovers. Through three quarters, the Lakers committed 7 turnovers. In the fourth quarter alone, the Lakers coughed up 8, and ultimately lost control of the game towards the end. Some may credit Miami's ball hawking ways, but, at least in this game, it looked more like the typical mental lapses that have plagued the Lakers all season. Yes, the Heat jumped a few passing lanes to disrupt the Lakers offensive flow, but some of those passes seemed lazier and forced. Poor rebounding led to Miami getting second, third and fourth chance opportunities. It's almost impossible to beat Miami in a straight shootout, but one weakness (if there really is one) in the Heat's roster is its lack of size and ability to crash the boards. Ranked 3rd in rebounding compared to Miami's horrid rank of 30 (yes, that's right, they are dead last), the Lakers should have dominated the glass. However, Miami crushed the Lakers on the boards 38-29 and there were a number of sequences where the Heat were given multiple opportunities to score on a single trip down the floor. Earl Clark is earning his stripes, while Metta World Peace seems to be in free fall. "Easy" Earl has embraced his new starting role and has not disappointed, averaging 12 points and nearly 9 rebounds over the last 10 games, while providing speed and athleticism for the slow starting squad. Along with Kobe Bryant, he has been one of the few players on this Lakers roster to bring consistency each game. While Clark is prone to some mistakes (due to inexperience), his game seems to be evolving every minute he steps on the floor, regardless of the opponent. On the other hand, Metta World Peace seems to be in somewhat of a tailspin, and has failed to crack the 50% FG shooting mark for 13 games now. Some poor shooting decisions on MWP's part is the most glaring reason for the slump, but he is even missing open looks. Let's hope he can break out of this slump sooner than later. The Lakers chemistry is simply not there every game, or even every quarter. With such an injury-plagued season, building any type of rhythm with the merry-go-round of players coming in out of the lineup is tough. When this season is done, an argument could be made-especially when it's time to negotiate with Dwight Howard during free agency-that this team was simply not healthy enough to put together a deep run in the playoffs.  It's not an excuse for the Lakers poor play, but it should be a consideration. Anyone that has played team sports knows that chemistry, along with talent, correlates with success. With that said, it was amazing to see how well the Lakers played for 36 minutes against Miami, sans Pau Gasol and Jordan Hill. Ball movement, communication and efficient basketball really forced the Heat to play at a higher level. Remember, coming in to Sunday, the Lakers had won 7 of the last 9 games, so they really are getting it together. Unfortunately, the Lakers may be out of time to really prove to everyone what this team can do. Despite a 4-3 Grammy road trip, the Lakers are still in a good position to make the playoffs. It's not the end of the world, yet. Most critics and fans didn't expect the Lakers to beat the Heat, but they played the kind of basketball that caught everyone's attention. The Grammy trip was, for the most part, a success. However, the Lakers will need to continue to win on the road in order to keep up with the Utah Jazz, Houston Rockets and Portland Trailblazers. Having a bit of luck also helps, and on Sunday, Lady Luck delivered two big losses from Houston and Portland, compliments of the Sacramento Kings and Orlando Magic. The Lakers have two games left before the All-Star break, and both are a must-win against the Phoenix Suns and the Los Angeles Clippers. If the Lakers can finish strong, it may be a strong indication that this team has really put the pieces together and are primed to compete for a playoff spot. The post 5 Takeaways from Lakers vs. Heat appeared first on Laker Nation.
Original Story:
http://lakernation.com/5-takeaways-fr...
THE BACKYARD
BEST OF MAXIM
RELATED ARTICLES
WON'T BITE
LeBron James is on a remarkable run but took to Twitter on Wednesday to express his thoughts on how people so often try to compare him to Michael Jordan.
The king, is king yet again.
MIAMI -- Remember Dwyane Wade? He's the guy who once made People magazine's list of the world's 50 most beautiful people, once starred in cell phone commercials with Charles Barkley and once was one of the best players in the NBA. Well, he's still one of the best. It's just he's dropped far enough behind Miami Heat teammate LeBron James that he sometimes...
Game time: Sunday at 3:30 p.m. TV: ABC The Miami Heat took down one Los Angeles team in their last game. They'll only wait two days to get a shot at the other one. If LeBron James continues his stellar stretch of play, the Heat have to like their chances to continue their recent domination of the visiting Los Angeles Lakers on Sunday. James is in the midst of another MVP-caliber...
McNeill and Mark chat about LeBron James' epic season, some of the NBA trades that might happen in the next two weeks, how things in Los Angeles have turned into another Dwightmare, if it's time to jump off the Clippers bandwagon and why the Celtics need to trade for a point guard.
More Snow, Please It's such a fun year in the Asso- ciation, people. LeBron James and Kevin Durant have both taken their games up another notch, which seemed more or less impossible last year; it's not too much of a stretch to say that they might be authoring the two best individual seasons in league history right now. The Knicks, of all teams, turned into a sharing and...
We continue with Part 3 of a series so popular that two NFL scouts have subscribed this week. Leading off with BYU's potential-packed Ziggy Ansah, a native of Ghana who wanted to be the next LeBron James, here are 27 of the 54 defensive linemen who will be testing at the Scouting Combine.
MIAMI (AP) -- LeBron James scored 32 points on 12-for-18 shooting in a record-setting show, Dwyane Wade scored 30 and the Miami Heat beat the Los Angeles Lakers 107-97 on Sunday for their fifth straight win. It was James' fifth straight game with at least 30 points, a franchise record. He's shot better than 60 percent in all five of those games. Mario Chalmers scored 13...
MIAMI (AP) -- LeBron James scored 32 points on 12-for-18 shooting in a record-setting show, Dwyane Wade scored 30 and the Miami Heat beat the Los Angeles Lakers 107-97 on Sunday for their fifth straight win. It was James' fifth straight game with at least 30 points, a franchise record. He's shot better than 60 percent in all five of those games. Mario Chalmers scored 13...
LEBRON AND WADE APPROVE
In the Miami Hurricanes rout of North Carolina, Shane Larkin (son of baseball Hall of Famer Barry Larkin) decided to have some fun and throw the ball of the glass to Kenny Kadji for the dunk; naturally this sent the crowd into a frenzy.  LeBron James and Dwyane Wade were sitting courtside and absolutely loved it.  This will be #1 on Sportscenter Saturday night as the Hurricanes...
All Sports News

Delivered to your inbox

You'll also receive Yardbarker's daily Top 10, featuring the best sports stories from around the web. Customize your newsletter to get articles on your favorite sports and teams. And the best part? It's free!
THE HOT 10: Who's Trending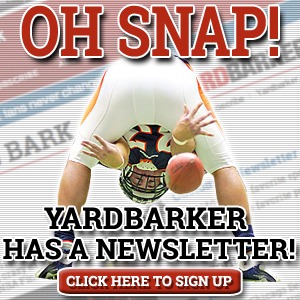 Latest Rumors
Best of Yardbarker

Today's Best Stuff

For Bloggers

Join the Yardbarker Network for more promotion, traffic, and money.

Company Info

Help

What is Yardbarker?

Yardbarker is the largest network of sports blogs and pro athlete blogs on the web. This site is the hub of the Yardbarker Network, where our editors and algorithms curate the best sports content from our network and beyond.