Found June 20, 2013 on Obstructed View OLD:
The other day, Alvin Yellon satisfied many of us with a classic example of his stupidity. Like many, Ryno has had a lot of fun with this. Here here is (the rest of this is from Ryno). Just for fun, I decided to look at Alvin's open letter as an editor. All bits and hyperbole aside, I wanted to see exactly how much ******** was in there. Alvin's original was 2,185 words, and I cut it to 275 without losing any of the context. What's funny is that the article was supposed to be an open letter to Epstein. The only thing directed at Epstein was a plea to build a winning team right now. He graciously told Epstein — who obviously would never have been able to concoct such a plan — that they key was to release a reliever and acquire mid-level talent. The rest of it was a shot at the people who think building a strong farm system is the best plan for the team. Just to sum up: Alvin needed 2,185 words to say the Cubs lost to the Mets, let us know that prospects are unlikely to meet expectations and tell Epstein to bring in mediocre players in order to win a World Series before he dies. Here's what I would have done if I were Alvin's content editor: The Cubs were leading the Mets 3-0 Sunday afternoon, looking to win their fourth consecutive game and move to nine games under .500. I started to wonder what the Cubs' management would do if this team somehow sneaked into contention. That thought was short lived, though, because the Cubs didn't win Sunday and dropped to 11 games under .500. It appears that the Cubs will once again be sellers at the trading deadline, looking to move several key players like Scott Feldman and Matt Garza. This particular loss prompted me to vent two thoughts: 1. Carlos Marmol needs to go. At some point, performances like his hurt the team and its future. Some have said a game like Sunday's was "virtually meaningless," but I think it is meaningful to sweep the Mets in New York for the first time in 22 years. That helps build a winning attitude and culture. 2. While following prospects is interesting, it's important to remember that they are statistically likely to fail. We should all be excited by Jorge Soler, Javier Baez, Kris Bryant and others, but I don't think the Cubs should expect them to be the core of a World Series contender. At some point, the Cubs need to acquire a few mid-level players to fill holes and then put some of those prospects around them to grow. I know people who lived without seeing the Cubs in the World Series and I don't want to be one of those people. I've followed this team for nearly 50 years and already experienced several disappointments at the hands of this team. I'm tired of disappointments. All I did was cut out anything that wasn't an actual point or relevant support of a point. That said, the numbered list was basically irrelevant to the article. Without adding any support, this is how I would have done Alvin's article: When the Cubs blew a 3-0 lead to the Mets 3-0 Sunday afternoon, a small wave of sorrow swept over me as I realized the Cubs will likely was once again wear the "Seller" label in July. The loss dropped the Cubs to 11 games under .500, and it appears that the Cubs will once again be sellers at the trading deadline. They'll try to entice a team to give up talented young players to acquire productive veterans like Scott Feldman and Matt Garza. My opinion is that we shouldn't mortgage the future on unproven prospects. Keep the Feldmans and Garzas of the team, fill a few holes with mid-level talent and then allow the cream to rise to the crop of the farm system. I've followed this team for nearly 50 years. I know people who lived without seeing the Cubs in the World Series and I don't want to be one of those people. I've already experienced several disappointments at the hands of this team. I'm tired of disappointments. That's 171 words, down from 2,185. And it says the same ******* thing…without the tangents. If his point was that the Cubs should at least field a team that can sneak into the playoffs — where history has shown that anything can happen — he failed miserably. That's actually a fair point. The post Alvin's open letter to Theo Epstein after a content editor gets through with it appeared first on Obstructed View.
Original Story:
http://www.obstructedview.net/facepal...
THE BACKYARD
BEST OF MAXIM
RELATED ARTICLES
Nashville Sounds 0 @ Iowa Cubs 7 Nick Struck had a no hitter into the 6th inning. He pitched 6.2 innings and ended up allowing 3 hits and 2 walks, for no runs. Casey Coleman had 1.1 innings of work and allowed 3 baserunners but no runs. Eduardo Sanchez pitched a scoreless ninth. Logan Watkins had a nice game, going 2 for 4 with a walk. Brian Bogusevic picked up a start at center...
It's June 19th and the Cubs are 69 games into their season. You and I probably picked Anthony Rizzo as the most productive position player on the team through this many games, assuming he remained healthy. I think most everybody would have taken Rizzo and almost no one would have taken Luis Valbuena. Well, Valbuena has had a surprisingly good start to his 2013 season and has been...
The Louisville Slugger Museum and Factory is currently featuring a special "Big Leagues, Little Bricks" LEGO exhibition, with various LEGO sculptures, portraits and stadium replicas on display. One of the centerpieces of the exhibit is a replica of Wrigley Field, the historic home stadium of the Chicago Cubs, which was created by artist Sean Kenney with 57,960 bricks...
Nashville Sounds 5 @ Iowa Cubs 4 (7 innings) Logan Watkins! Double triples and a single single. 7 bases in one game is fine with me. Donnie Murphy had a single and a walk, with 2 RBI. Junior Lake had a walk, a strikeout, and an RBI. Brett Jackson had a walk and no strikeout. Brooks Raley had a double and his average is .333. Brooks Raley is bad at pitching. His ERA sits at 5...
After a rough start to the month, the Chicago Cubs are starting to turn things around. So is scheduled starter Edwin Jackson, who goes for his third straight victory Wednesday night against the St. Louis Cardinals. The Cubs (29-40) opened June with eight losses in 10 games, but have since won four of six behind a starting rotation that has posted a 2.61 ERA. The starters have recorded...
The New York Yankees have acquired minor league infielder Brent Lillibridge from the Chicago Cubs on Friday for a player to be named or cash. Lillibridge is one of several backup infielders acquired by the Yankees this season to help fill in for their injured All-Stars. The trade Friday is the second deal between New York and Chicago this year. The Yankees acquired Alberto Gonzalez...
According to Buster Olney, the Chicago Cubs are open for business. They're a rebuilding franchise with no real playoff aspirations and a bunch of interesting veterans who are free agent eligible at the end of the year, so it makes sense for them to make some present-for-future trades. The focus is likely going to be on their pitching, as Matt Garza and Scott Feldman will be two...
Matt Garza pitched into the ninth inning and Anthony Rizzo hit his first home run since May 18 to lead the Chicago Cubs over the Houston Astros 3-1 on Friday after a rain delay that lasted more than 3 hours. Darwin Barney and Scott Hairston also homered for the Cubs. The subject of trade speculation, Garza (2-1) allowed four hits and struck out eight in eight-plus innings for his...
Matt Garza turned in his best performance of 2013 allowing just one run over eight innings in a 3-1 win over the Houston Astros.Garza was coming off the start in which he threw seven shutout innings in a no decision against the Mets on Sunday.After walking the first batter in the ninth inning Kevin Gregg came on to get the final three outs and preserved the win.  Houston's lone...
Don't miss a second of the action when these two juggernauts collide this weekend! Friday (1:20 CT): Dallas "Big Texy" Keuchel (4.23 ERA, 4.37 FIP, 3.95 SIERA) vs. Matt "Reyezuelo" Garza (4.98 ERA, 4.57 FIP, 4.12 SIERA) Saturday (3:05): Bud "Thumbface" Norris (3.64, 3.54, 4.45) vs. Travis "High Times" Wood (2.74, 3.45, 4.44) *MARQUEE MATCHUP...
In 1998 Mark McGwire and Sammy Sosa took sports fans by storm, going back and forth, trying to break the MLB single season home run record.  At that time the record was 61 and it was held by Roger Maris since 1961.  On September 7, 1998, Big Mac, 34 years old, slugged home run number 61, off Mike Morgan of the Chicago Cubs, tying the record.  It was an amazing thing to witness...
Cubs News

Delivered to your inbox

You'll also receive Yardbarker's daily Top 10, featuring the best sports stories from around the web. Customize your newsletter to get articles on your favorite sports and teams. And the best part? It's free!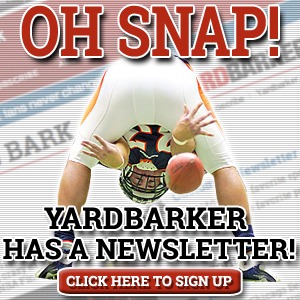 Latest Rumors
The Backyard

Today's Best Stuff

For Bloggers

Join the Yardbarker Network for more promotion, traffic, and money.

Company Info

Help

What is Yardbarker?

Yardbarker is the largest network of sports blogs and pro athlete blogs on the web. This site is the hub of the Yardbarker Network, where our editors and algorithms curate the best sports content from our network and beyond.