Found November 18, 2012 on The B1g Time:
(This is the 1st in a two part series looking into the fast moving Big Ten expansion 2.0 rumors) The Tagline here is "In Expansion We Trust," and we still hold steady to that in the face of what is becoming mounting evidence that Maryland and Rutgers are on their way to the Big Ten, but the question remains is this the right move with the right teams for one of the most historical conferences in all of college athletics? Well, this writer says yes. Barring a crazy vote of the University of Maryland Board of Regents at 9am Eastern tomorrow it's expected that this move will happen and while we here at Delany's Dozen have heard just about every crazy rumor and conference realignment scenario, this one actually holds water. As a result it's time to look into why the move to add the Terps and Scarlet Knights makes sense. First off, we need to put aside the competitive aspect of the move because that's not what this is about. Heck, that's not what any of college sports bazillions of rounds of conference realignment have been about. It's all been about the almighty television dollar, bottom line. Let's be 100% honest here, this move is all about money for the Big Ten. It sure as heck isn't about on the field, court, or ice competition. Unlike the addition of Nebraska, which is elite in about 90% of the sports they compete in, neither Rutgers or Maryland can lay claim to a long held tradition of greatness in anything athletically. Yes, Maryland basketball was at one time amazing, but those days have seemingly come and gone and they are in a rebuilding mode.  Now that we've got that out of the way, it's time to get down to the business of big time college athletics. A land where millions and millions of dollars are at stake in an ever increasing arms race for bigger, badder, and newer athletic facilities. That means conferences need to find ways to fork out more and more money to their member institutions and that's where TV contracts and media rights in general come in and that's where this move further east makes all the sense in the world.  Everyone seems to have their piece of the ESPN pie and the Big Ten has a well established cash cow in the Big Ten Network at their disposal. The nearest media rights contract doesn't come up for another 5 years for the conference, so how do you try and keep pace with the likes of the SEC, Big 12, and Pac-12 which have all added new ESPN mega deals to their portfolios?  Simple, add two schools that reach into the biggest possible media markets in the east... New York/New Jersey (No. 1) and Baltimore/DC (No. 8). Even by a conservative estimate there's about an extra 14 million people to put your product in front of and those are numbers a move to say Missouri or Louisville could never come close to matching, EVER. The only one that could do it is Notre Dame, but frankly that shipped has sailed in my eyes. With Delany planting his flag right in the back yards of those two programs it forces cable & satellite providers in the area to carry the Big Ten network as part of the main tier of their cable packages and that means multi-millions of dollars coming back to the Big Ten coffers on an annual basis, right here and now. Yes, it's true that both of these markets are more pro sports orientated in their fan bases, but that's not the point. The point is that adding the flagship schools of those two areas requires the attention and upgrade in placement on the cable and satellite packages.  We haven't even gotten into why the moves make sense $$ wise for both Maryland and Rutgers yet, but it's safe to say it's a big jump up in the money they will see from their current conferences. In fact it's enough in Maryland's case to almost completely knock out the athletic budget deficit they are currently running (estimated at $7 million this year).  Things aren't nearly as bad for Rutgers, but they are running in the red as well and this would put them in the black big time. As fans of your specific team and the Big Ten in general it may be sad to see the Big Ten making a reach for two schools that seemingly add nothing to the table on the competitive side of things in the short term, but the reality is these conference moves have nothing, I repeat NOTHING to do with the fans. If so the conference wouldn't have made a move to 12 to begin with, let alone being on the brink of 14 member schools.  In the end this is a move to put the Big Ten conference in the best position possible to maximize what's been a crazy five year period of a cash based arms race in major college athletics and in that world this is a move that's exactly right for the Big Ten. No doubt, you the fellow Big Ten fan will have a lot to say so comment away... or join the conversation on Twitter and Facebook, whatever your pleasure.
Original Story:
http://www.delanysdozen.com/2012-arti...
THE BACKYARD
BEST OF MAXIM
RELATED ARTICLES
Not sure who broke this first, as it's everywhere now: Yahoo, ESPN, Tribune, but the word is Maryland in serious talks with the Big Ten about joining. And because all conference realignment MUST come in pairs. UM's partner will be Rutgers, the state University of New Jersey. The Scarlet Knights have really improved their program and they're pretty good this year. As for the...
The rumors are true - Maryland will be the Big Ten's thirteenth member. The University of Maryland Board of Regents has voted to accept an offer to join the B1G, according to ESPN sources. Rutgers will reportedly do the same by Tuesday. "Sources also said that Rutgers is expected to follow the Terrapins and will announce its own move from the Big East to the Big Ten...
CINCINNATI -- Rutgers coach Kyle Flood breaks down defensive effort against running game, Savon Huggins's emergance and more during his post-game press conference after the 10-3 victory over Cincinnati. The Scarlet Knights improved to 5-0 in the Big East and 9-1 on the season.
Pitt's first season under coach Paul Chryst has been marred by a lack of consistency, though there's at least one trend Chryst hopes remains intact heading into the final two weeks of the season. The Panthers have alternated two-game losing streaks and two-game winning streaks all fall. If form holds, it means Pitt (4-6) is ready to go on a two-game run heading into Saturday...
CINCINNATI (AP) -- Savon Huggins ran for a career-high 179 yards, and Rutgers' defense had another shut-down showing Saturday in a 10-3 victory over Cincinnati that kept the 22nd-ranked Scarlet Knights in control of the Big East. Rutgers (9-1, 5-0) remained the only unbeaten team in conference play. The Scarlet Knights finish with games at Pittsburgh and home against No. 20...
Reserve running back Savon Huggins had a career-high 179 yards, and Rutgers' defense had another shut-down performance on Saturday for a 10-3 victory over Cincinnati that kept the 22nd-ranked Scarlet Knights in control of the Big East. Rutgers (9-1, 5-0) remained the only unbeaten team in conference play. The Scarlet Knights finish with games at Pittsburgh and home against No...
PISCATAWAY, N.J. -- Being a walk-on is tough. Gaining meaningful playing time is even more difficult. Rutgers tight end Beau Bachety has done it, and heading into Saturday's game against Cincinnati he spoke to ScarletReport.com about it.
Paul Chryst previews Rutgers. Chryst called the Scarlet Knights a team that is solid running the football with an aggressive defense.
CINCINNATI -- Middle linebacker Steve Beauharnais had an interception that helped ice the game for No. 22 Rutgers against Cincinnati. Beauharnais went 1-on-1 with ScarletReport.com to discuss his big day and why he feels defensive coordinator Robb Smith is a "defensive mastermind."
CINCINNATI -- ScarletReport.com was on the field following the 10-3 victory for No. 22 Rutgers over Cincinnati. After the win, here is video of the Scarlet Knights' celebration, including an appearance by representatives of the Orange Bowl and the school's alma mater.
The de facto Big East championship game between Louisville and Rutgers has been established with the Scarlet Knights' 10-3 win over Cincinnati on...
All Sports News

Delivered to your inbox

You'll also receive Yardbarker's daily Top 10, featuring the best sports stories from around the web. Customize your newsletter to get articles on your favorite sports and teams. And the best part? It's free!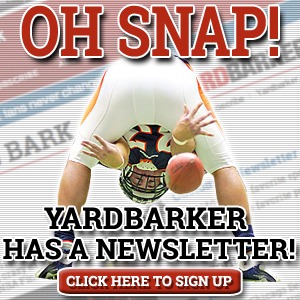 Latest Rumors
Best of Yardbarker

Today's Best Stuff

For Bloggers

Join the Yardbarker Network for more promotion, traffic, and money.

Company Info

Help

What is Yardbarker?

Yardbarker is the largest network of sports blogs and pro athlete blogs on the web. This site is the hub of the Yardbarker Network, where our editors and algorithms curate the best sports content from our network and beyond.